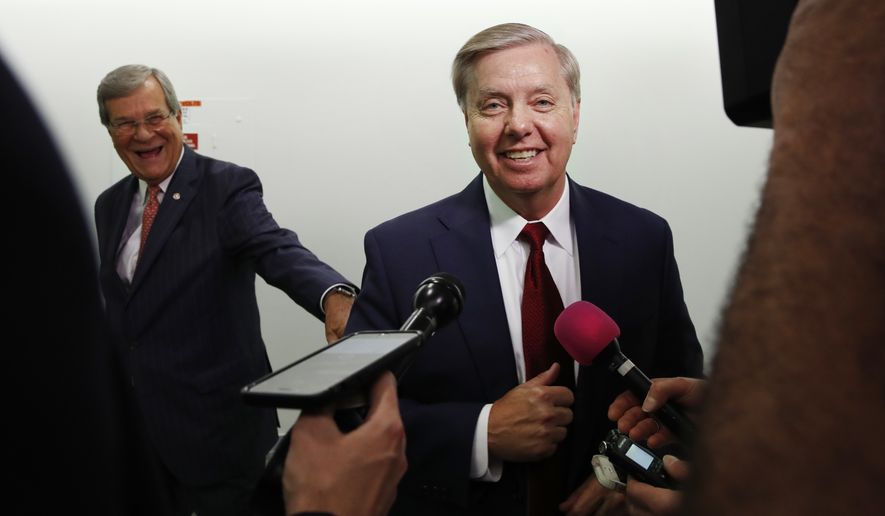 Sen. Lindsey Graham says Republicans are holding "four lottery tickets" with President Trump's final short list of judges who could be nominated to the U.S. Supreme Court.
"Republicans are holding four lottery tickets, and all of them are winners," Mr. Graham said on "Fox News Sunday." "If you're a conservative Republican, the four people named, particularly Thomas Hardiman, I'm glad he's on the list, are all winners, and every Republican should embrace these picks."
Mr. Trump has reportedly narrowed his list down to four names: Judge Amy Coney Barrett of the U.S. Court of Appeals for the Seventh Circuit, Judge Thomas Hardiman of the U.S. Court of Appeals for the Third Circuit, Judge Brett Kavanaugh of the U.S. Court of Appeals for the D.C. Circuit and Judge Raymond Kethledge of the U.S. Court of Appeals for the Sixth Circuit.
The South Carolina senator said Democrats from red states will have a difficult time opposing any of those judges.
"This is a nightmare for red-state Democrats to oppose a highly qualified nominee, and all four of these people are highly qualified—been on the court, know what they're doing, mainstream judges," Mr. Graham said. "So red-state Democrats are going to have a very hard decision, and I hope every Republican will rally around these picks, because they're all outstanding."
No matter whom Mr. Trump nominates to the highest court, Mr. Graham said Senate Democrats are unlikely to support the pick....
"Here's the truth: Donald Trump could nominate George Washington or John Marshall, and they couldn't get through," he said. "Maybe a handful of Democrats will vote for a Trump pick because they have to politically. I've never seen it this dysfunctional."
The Washington Times Comment Policy
The Washington Times welcomes your comments on Spot.im, our third-party provider. Please read our Comment Policy
[1]
before commenting.References
^
Comment Policy
(www.washingtontimes.com)