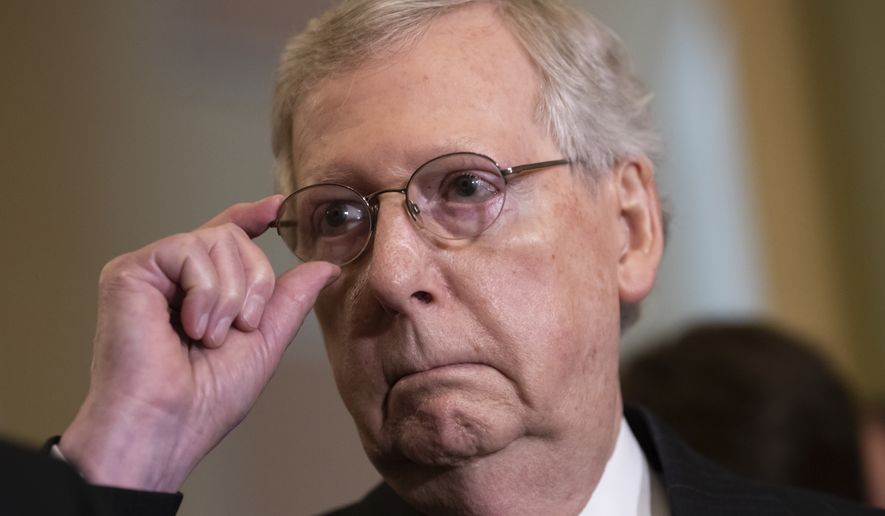 About a half-dozen chanting protesters confronted Senate Majority Leader Mitch McConnell on Saturday as he left a Louisville, Kentucky restaurant and warned him that they knew his address.
According to at least one video posted on You Tube — the demonstrators could be seen making their own films with their cell phones — the chanters vowed "no justice, no peace" and warned of more.
"We know where you live, Mitch. We know where you live," one male voice could be heard saying.
Other chants or screams that could be frequently heard in the one-minute clip were "vote you out," "Where are the babies, Mitch?" and "Abolish ICE."
Mr. McConnell and his companion — TMZ reported[1] that it was Kentucky House Majority Leader Jonathan Shell — did not acknowledge the attacks or threats as they left the restaurant, which seems to be the Bristol Bar & Grille in Bardstown Road's food and entertainment district, and drove off.
There was no indication from the video of whether they had chased the two men from the restaurant, as has happened to Homeland Security Secretary Kristjen Nielsen in Washington, or got inside it at all.
Mr. Shell dismissed the yellers to TMZ as "a small group of extremists" playing a game "out of the Maxine Waters playbook."
Mrs. Waters, a Democratic member of the U.S. House from Los Angeles, has called on all her supporters to chase administration figures from any public space....
"If you see anybody from that Cabinet in a restaurant, in a department store, at a gasoline station, you get out and you create a crowd and you push back on them, and you tell them they're not welcome any more, anywhere," she told a cheering crowd last month.
The Washington Times Comment Policy
The Washington Times welcomes your comments on Spot.im, our third-party provider. Please read our Comment Policy
[2]
before commenting.References
^
reported
(www.tmz.com)
^
Comment Policy
(www.washingtontimes.com)