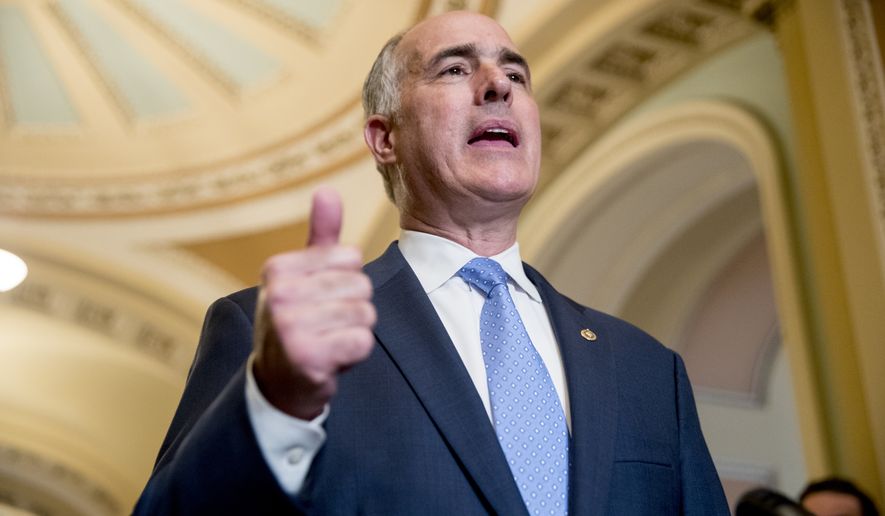 Some Democrats said they don't have to wait for President Trump[1] to pick a Supreme Court nominee — they're voting "No" regardless of who he names.
Sen. Bob Casey became the latest one, saying Monday that the entire process the president has followed was "corrupt" because he was working from a list he wrote with the help of the conservative Heritage Foundation[2] and Federalist Society.
Mr. Casey, Pennsylvania Democrat, said both of those groups have ties to corporations and he rejected anything that had their input.
"Any judge on this list is fruit of a corrupt process straight from the D.C. swamp," he said.
Other Democrats, still salty over the GOP's treatment of one of President Obama's nominees in 2016, said they won't accept any nominee until after the November election.
Sen. Mazie Hirono, Hawaii Democrat, told CNN last month she would't vote for a Trump[3] pick this year. Sen. Tom Carper, Delaware Democrat, said Senate Majority Leader Mitch McConnell's refusal to hold a vote on Obama pick Judge Merrick Garland in 2016 should haunt the Republicans.
"If we are still operating under the McConnell Standard, and because we are even closer to an election now than we were in the Garland case, the Senate should wait until after the outcome of the November election before considering any nominee," he said.
Mr. McConnell mocked Democrats' objections, saying they're rehashing the same arguments they made about past nominees — some of whom turned out to be rather liberal when they got on the high court.
He said Democrats' rhetoric was also getting out of hand, pointing in particular to Sen. Kamala Harris, a California Democrat who predicted a Trump[4] court nominee would mean "a destruction of the Constitution of the United States."...
"It's hard to keep a straight face when you hear stuff like that," Mr. McConnell said Monday on the chamber floor. "The far-left rhetoric comes out every single time. But the apocalypse never comes."Democrats are hopeful they can retake the Senate in November and force
Mr. Trump
[5]
to name a pick more to their liking."I'll fight to make sure there are no hearings to replace Justice Kennedy until after the election. This is our democracy. Let's fight like it," Sen. Kirsten Gilibrand tweeted.And Ms. Harris called
Mr. Trump
[6]
's list of potential picks "non-starters.""They are conservative ideologues, not mainstream jurists. We cannot and will not accept them to serve on the highest court in the land," she tweeted last month.
The Washington Times Comment Policy
The Washington Times welcomes your comments on Spot.im, our third-party provider. Please read our Comment Policy
[7]
before commenting.References
^
Trump
(www.washingtontimes.com)
^
Heritage Foundation
(www.washingtontimes.com)
^
Trump
(www.washingtontimes.com)
^
Trump
(www.washingtontimes.com)
^
Mr. Trump
(www.washingtontimes.com)
^