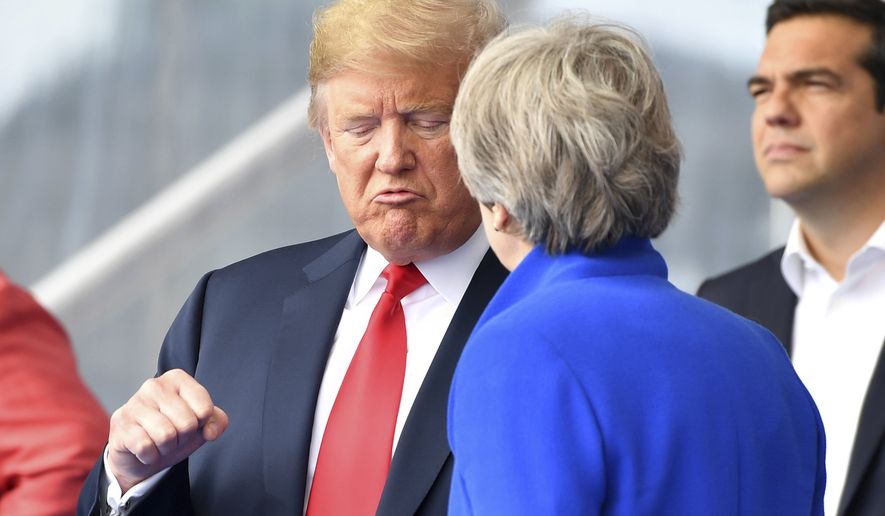 British Prime Minister Theresa May on Wednesday showed she was siding with Present Trump at the NATO summit in Brussels, saying her country was paying its fair share for the defense alliance.
"We lead by example, not only by meeting the NATO targets of spending 2 percent of our GDP on defense," Mrs. May said, adding that the U.K. also deploys thousands of troops to NATO missions around the world.
Mr. Trump has made cost sharing a top issue at the summit. He has been pressing for all 29 member nations to pony up the 2 percent of GDP, which is the level agreed to in 2014.
The U.K. is among a handful of NATO countries siding with Mr. Trump as he shakes up the military alliance. Most of the allies are rankled and riled by Mr. Trump's demand that they pay up.
Last year, only six other countries spent at least 2 percent: U.S., U.K., Greece, Estonia, Romania and Poland.
The U.S. spent a little more than 3.5 percent of GDP on NATO defense.
Mrs. May announced that the U.K. was sending an additional 440 troops to NATO's mission in Afghanistan.
"I think that shows when NATO calls, the UK is one of the first to step up," she said. "But that gives us a powerful voice in NATO. It enables us to work as we have done to ensure that NATO adapts to meet the new threats of cyber terrorism, as well as conventional threats....
"I'm sure at this summit we will be talking — President Trump and all the allies round the table — about how we can ensure that NATO is adaptable and flexible to meet the threats of the future," Mrs. May said.
The Washington Times Comment Policy
The Washington Times welcomes your comments on Spot.im, our third-party provider. Please read our Comment Policy
[1]
before commenting.References
^
Comment Policy
(www.washingtontimes.com)