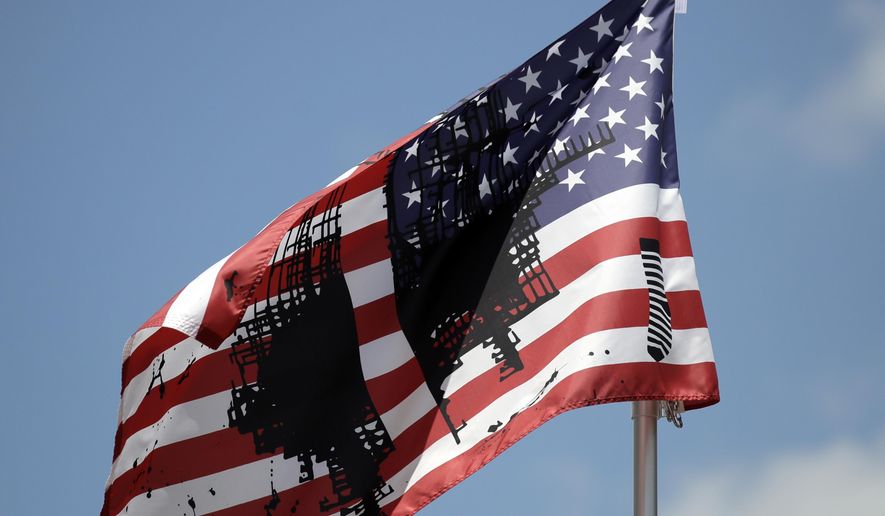 KANSAS CITY, Mo. — An art display that included an altered U.S. flag will be moved from an outside display on the University of Kansas campus to the school's art museum after Gov. Jeff Colyer and other Republican political candidates complained that it was disrespectful.
Kansas Chancellor Doug Girod said in a statement that the display, which was part of a national art project called "Pledges of Allegiance," caused conversations on Wednesday that "generated public safety concerns for our campus community." He didn't elaborate on the safety concerns.
"While we want to foster difficult dialogue, we cannot allow that dialogue to put our people or property in harm's way," Girod said.
Girod said the display, which had flown on a flag police outside Spooner Hall on the Lawrence campus, will be moved to the university's Spencer Museum of Art "where we can continue the important conversation it has generated." The art museum was a partner in the national art project.
The flag was removed from the outside display about 4:30 p.m. Wednesday, about an hour after Colyer's spokesman said Girod had agreed to take it down.
"It was disrespectful to have something like that on permanent display on campus," Colyer spokesman Kendall Marr said.
Secretary of State Kris Kobach, who is running against Colyer in the August Republican primary for governor, also had called for the artwork to be taken down from the campus in Lawrence, Kansas, about 40 miles (65 kilometers) west of Kansas City.
The display, called "Untitled (Flag 2)" is the last of a series of flag pieces that have flown on the Lawrence campus since last fall as part of "Pledges of Allegiance," which involves 11 institutions at 14 locations across the country. "Untitled (Flag 2)" was installed July 5 and shows two black shapes on the flag along with a black-and-white sock. The artist, New York-based Josephine Meckseper, said it represents a deeply polarized country.
Asked whether Colyer's demand that the flag be taken down violated free speech rights, Marr said the governor also had a right to express his displeasure....
"We didn't go and forcibly take it down," Marr said. "We let our opinion be known."Before the flag was moved, Kobach said it was "outrageous" that a public university would display a desecrated flag. The university says private money paid for the project."The fact that they call it art does not make it any less of a desecration of our flag. I call upon the university to take down that flag right away," Kobach said.University spokeswoman Erinn Barcomb-Peterson had said the project was intended to encourage conversation about the current political climate.Steve Watkins, a combat veteran and GOP candidate for Kansas' 2nd Congressional District, first drew attention to the artwork, saying the "defaced American flag" was disrespectful to the military. But he did not demand that the flag be removed.State Sen. Marci Francisco, a Lawrence Democrat, said she visited the site before the