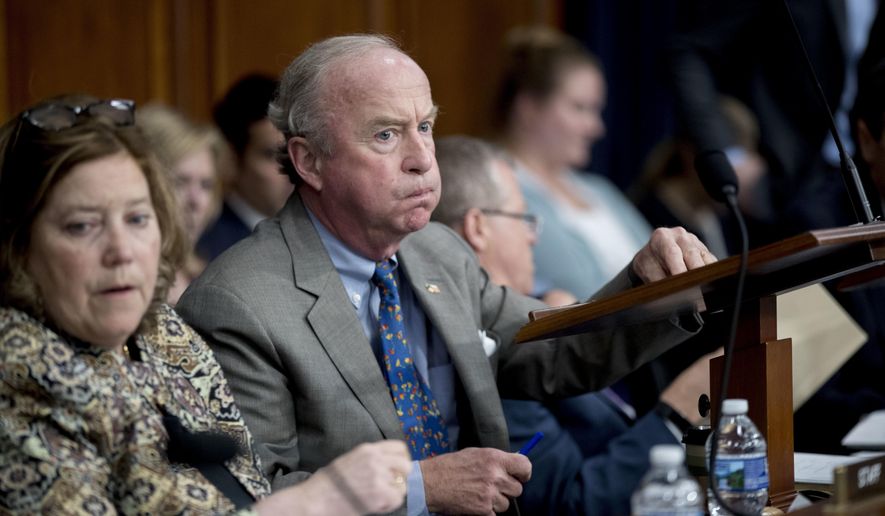 The House Appropriations Committee late Wednesday approved its 2019 spending bill for the Departments of Labor, Health and Human Services, and Education, after a marathon markup session dominated in part by discussion of the child separation crisis at the border.
The full committee markup of the Labor-H spending bill, typically one of the more contentious ones, had already been pushed off because of scheduling issues, and so the Wednesday vote marked a critical step forward as lawmakers race to get all 12 appropriations bills through the full Congress before the next government funding deadline at the end of September.
"This bill funds critical programs that will protect and save lives both now and in the future, and help prepare the next generation to be part of a productive workforce to grow our economy and provide for their families," said Committee Chairman Rodney Frelinghuysen, New Jersey Republican.
The committee approved the bill on a 30-22 vote.
The bill's overall spending level of about $177 billion is essentially the same as the current year, though it does include a $1.25 billion boost for the National Institutes of Health, to about $38 billion.
Democrats argued that since the bill comprises about a third of the federal government's non-defense discretionary spending, there should be more of a bump in spending based on newly available money in a two-year budget deal approved earlier this year.
Rep. Nita Lowey, the top Democrat on the committee, also suggested that changes are in the offing anyway once the House version is reconciled with the Senate's.
"The Senate is passing bipartisan bills and avoiding poison pill riders instead of wasting time on partisan bills with no chance of enactment," she said.
The House version, meanwhile, included such perennial policy "riders" that restrict funding in hot-button areas like abortion, gun control, and Obamacare....
The committee also adopted a number of amendments Wednesday that sought to address the family separation issue, including one threatening to dock the health and human services secretary's budget for every day, starting in August, that he doesn't submit a detailed family reunification plan to Congress."We will continue our oversight responsibilities to ensure that separated families are reunited as quickly as possible, and that adequate resources are provided to do so," Mr. Frelinghuysen said.The committee also adopted an amendment from Rep. Robert Aderholt, Alabama Republican, that says the federal government can't discriminate against child welfare providers if they decline to provide services like adoption promotion or foster care on religious grounds.Republicans said the measure was about respecting the religious beliefs of the groups, while Democrats said it opens up the potential for discrimination on the basis of people's sexual orientation.Republicans did turn aside other Democratic amendments that sought to boost money for gun violence research, increase the federal minimum wage to $15 an hour, and restore funding for family planning services.House and Senate appropriators are pressing forward on their 2019 spending bills in hopes of avoiding