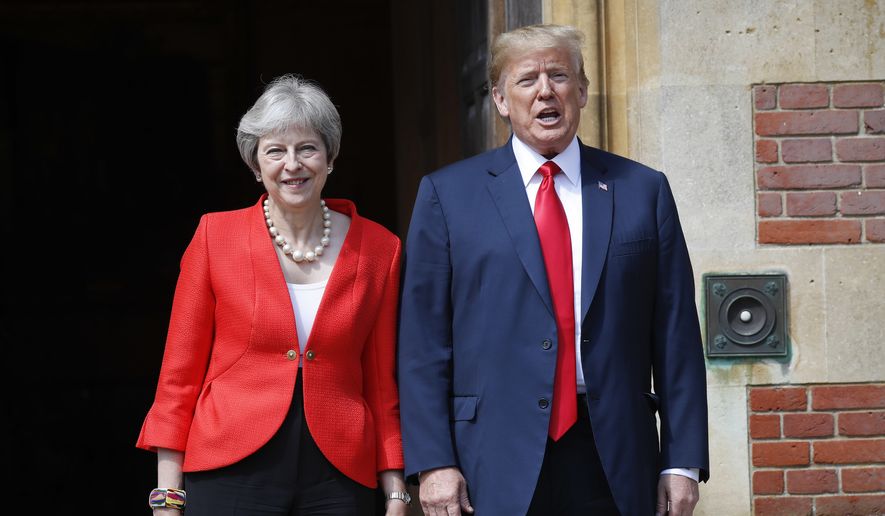 President Trump added to British Prime Minister Theresa May's Brexit headache ahead of their meeting Friday, saying her plan was not the hard break with the EU that voters wanted and could scuttle a U.S.-U.K. trade deal.
"The deal she is striking is a much different deal than the one the people voted on. It was not the deal that was in the referendum," Mr. Trump told the Sun, a tabloid newspaper in London.
The president's critique came as Mrs. May faces the biggest political challenge of her career. She is struggling to hold together a government cleaved by Brexit.
Mr. Trump also praised former British Foreign Secretary Boris Johnson, a Brexit hardliner who quit Monday over Mrs. May's plan for a soft exit from the European Union.
"I have a lot of respect for Boris. He obviously likes me and says very good things about me," Mr. Trump told the newspaper.
Asked if Mr. Johnson would be a good British leader, Mr. Trump said, "Well I am not pitting one against the other. I am just saying I think he would be a great prime minister."
As Mr. Trump and Mrs. May brushed off reporters' questions about it as they sat down for a talk at Chequers, the prime minister official estate in Ellesborough, about 40 miles northwest of London.
They will face reporters again at a joint press conference later Friday.
The U.K. voted for Brexit two years ago, but the break with the EU has been repeatedly delayed. Mrs. May now is struggling to sell a strategy for the exit that holds together her government coalition of Brexit hardliners and moderates who fear isolation from the EU....
The Trump administration had talked up the prospects of a U.S.-U.K. trade deal that for Mrs. May would have been a respite from the Brexit turmoil.In the interview, Mr. Trump threw that into doubt because of the prime minister's Brexit plan."If they do a deal like that, we would be dealing with the European Union instead of dealing with the U.K., so it would probably kill the deal," he said. "If they do that, then their trade deal with the U.S. will probably not be made."He said the U.S. has enough problems trading with the EU."If they do that I would say that that would probably end a major trade relationship with the United States," Mr. Trump said.
The Washington Times Comment Policy
The Washington Times welcomes your comments on Spot.im, our third-party provider. Please read our Comment Policy
[1]
before commenting.References
^
Comment Policy
(www.washingtontimes.com)