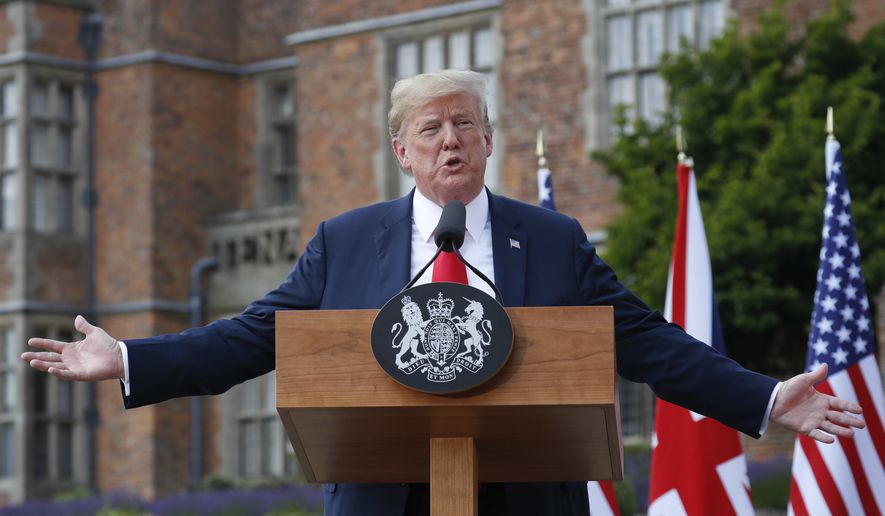 President Trump[1] named the European Union, Russia[2] and China as "foes" of the U.S. as he heads into a Monday meeting with Russian President Vladimir Putin in Helsinki, Finland.
"I think we have a lot of foes. I think the European Union is a foe, what they do to us in trade," Mr. Trump[3] told CBS News in excerpts of an interview released Sunday. "Now you wouldn't think of the European Union, but they're a foe. Russia[4] is foe in certain respects. China is a foe economically, certainly they are a foe."
"But that doesn't mean they are bad," he said. "It doesn't mean anything. It means that they are competitive. They want to do well, and we want to do well."
Interviewer Jeff Glor said people might be surprised to hear Mr. Trump[5] label the EU a foe ahead of China or Russia[6].
Mr. Trump[7] said he looks at them al,l but the EU is "difficult."
"In a trade sense, they've really taken advantage of us and many of those countries are in NATO and they weren't paying their bills," the president said.
Mr. Trump[8] said last week that NATO member-countries agreed to up their spending on defense after a summit of leaders of the countries in Brussels, though other leaders later disputed Mr. Trump[9]'s assertion.
In the interview, Mr. Trump[10] also criticized a recent deal Germany struck with Russia[11] on the planned Nord Stream[12] 2 pipeline project, calling it "not fair."
"You're supposed to be fighting for someone and then that someone gives billions of dollars to the one you're, you know, guarding against. I think it's ridiculous, so I let that be known also this time," he president said....
He said there's "a lot of anger" that Germany is paying
Russia
[13]
"billions" of dollars."I also think it's a very bad thing for Germany,"
Mr. Trump
[14]
said. "Because it's like, what are they waving, a white flag?"
The Washington Times Comment Policy
The Washington Times welcomes your comments on Spot.im, our third-party provider. Please read our Comment Policy
[15]
before commenting.References
^
Trump
(www.washingtontimes.com)
^
Russia
(www.washingtontimes.com)
^
Mr. Trump
(www.washingtontimes.com)
^
Russia
(www.washingtontimes.com)
^
Mr. Trump
(www.washingtontimes.com)
^
Russia
(www.washingtontimes.com)
^
Mr. Trump
(www.washingtontimes.com)
^
Mr. Trump
(www.washingtontimes.com)
^
Mr. Trump
(www.washingtontimes.com)
^
Mr. Trump
(www.washingtontimes.com)
^
Russia
(www.washingtontimes.com)
^
Nord Stream
(www.washingtontimes.com)
^
Russia
(www.washingtontimes.com)
^
Mr. Trump
(www.washingtontimes.com)
^
Comment Policy
(www.washingtontimes.com)