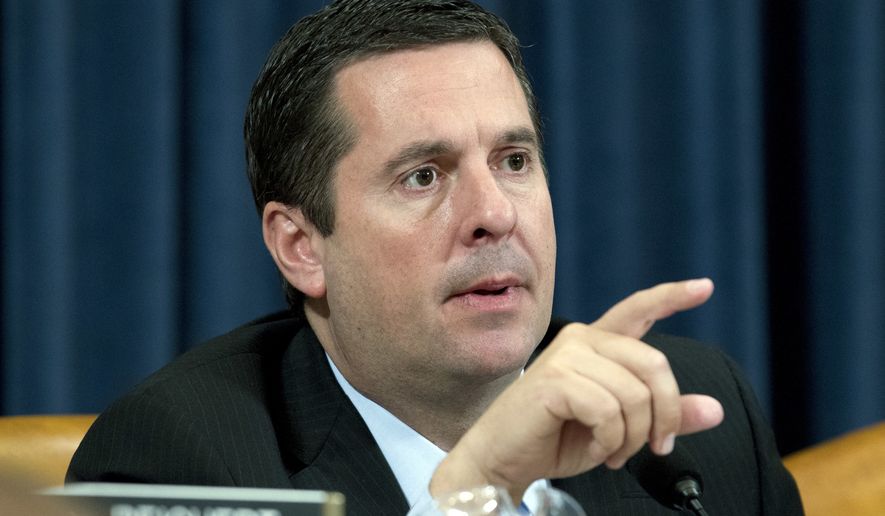 House Intelligence Committee Chairman Rep. Devin Nunes said Sunday he will be pushing to hold Attorney General Jeff Sessions in contempt this week for not complying with a subpoena.
The California Republican said his committee sent a letter requesting classified information regarding its probe into FISA abuses and counterintelligence investigations, including the targeting of Americans like former Trump campaign official Carter Page, but it was ignored.
After attempting to subpoena the classified information last week, Mr. Nunes discovered the Justice Department will not comply.
"We have to move quickly to hold the Attorney General of the United States in contempt and that's what I want to press for this week," Mr. Nunes told Fox News on Sunday.
The next step will be going to court to try to enforce the committee's subpoena.
Mr. Nunes said he refuses to take the excuse that handing over the information would harm national security.
"How many times have we heard that argument?" he said. "This just can't continue where we don't get information in a timely manner."...
Congress voted to hold former Internal Revenue Service executive Lois Lerner in contempt in 2014 after targeting conservative tea party groups and it's held former Attorney General Eric Holder in contempt in 2012 for not complying with the investigation into the Obama administration's Operation Fast and Furious, which included gun trafficking across the border.
The Washington Times Comment Policy
The Washington Times is switching its third-party commenting system from Disqus to Spot.IM. You will need to either create an account with Spot.im or if you wish to use your Disqus account look under the Conversation for the link "Have a Disqus Account?". Please read our Comment Policy
[1]
before commenting.References
^
Comment Policy
(www.washingtontimes.com)