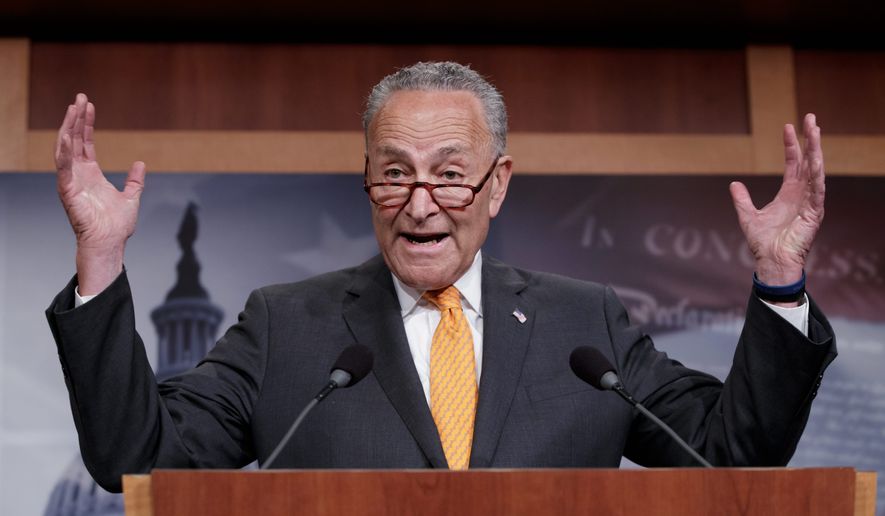 Top Capitol Hill Democrats suggested Monday that Russian President Vladimir Putin is blackmailing President Trump[1], forcing him to favor Russia[2]'s interests over America's at the Helsinki[3] summit.
House Democratic Leader Nancy Pelosi said Mr. Trump[4] appeared "afraid" of Mr. Putin and used Twitter to ask whether Mr. Putin is blackmailing the president with either personal, financial or politically damaging information.
"The answer to that question is that only thing that explains his behavior & his refusal to stand up to Putin," the California Democrat tweeted.
Senate Minority Leader Charles E. Schumer called on Mr. Trump[5]'s national security team to testify before Congress about what was said before and after the summit.
The top Democrat in the Senate called on Republicans to stop criticizing law enforcement, including the FBI, in an effort to defend the president. He also stressed the need to ratchet up sanctions against Russia[6].
"When you just looked at the press conference, President Putin was the real victor," Mr. Schumer said.
In Helsinki[7], Mr. Trump[8] did not publicly confront Mr. Putin about Russia[9] meddling in U.S. elections, calling the special counsel's investigation into Russian collusion a "disaster for our country."
Dan Coats, the director of National Intelligence, reaffirmed the agencies' reports that Russia[10] was a culprit, attempting to influence the 2016 election and divide Americans.
"We have been clear in our assessments of Russian meddling in the 2016 election and their ongoing, pervasive efforts to undermine our democracy, and we will continue to provide unvarnished and objective intelligence in support of our national security," Mr. Coats said in a statement, responding to the president's rebuke....
In a bipartisan showing, key Senate Intelligence Committee members blasted
Mr. Trump
[11]
's performance."I think President
Trump
[12]
's actions today were outrageous," said Sen. Mark Warner of Virginia, the panel's top Democrat. "The president of the United States sided with Vladimir Putin over the unanimous assessment of the American intelligence community, over the bipartisan conclusion of the Senate Intelligence Committee, over the acknowledgment of Facebook, Twitter Google and YouTube that
Russia
[13]
manipulated their platforms."Mr. Warner was joined by Sen. Marco Rubio, Florida Republican and a fellow committee member, at a Washington think tank meeting Monday on broader themes of Russian geopolitical aggression, and Mr. Rubio also criticized the president's claims that he couldn't imagine why
Russia
[14]
would want to influence the U.S. election."What the president said today is not accurate," Mr. Rubio said. "The intelligence community has assembled probably an unparalleled amount of evidence in regards to Russian efforts to interfere, not just in 2016, but in ongoing efforts, not just in American society but in many other parts of the world represented here today."Participants at the event held by the Atlantic