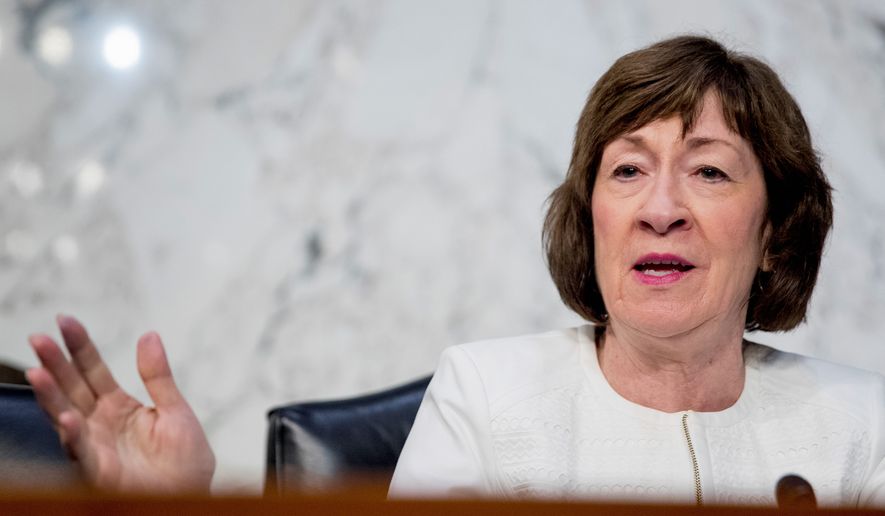 Sen. Susan Collins of Maine on Monday said Congress is ready and able to forbid "gag clauses" that bar pharmacies from telling customers they could pay less by using cash for certain drugs instead of ponying up the copayment under their insurance policy.
Ms. Collins, a centrist Republican, pointed to support from the Trump administration[1], which singled out the clauses in its blueprint for slashing drug prices, and from Democratic Sens. Claire McCaskill of Missouri and Debbie Stabenow of Michigan, who co-sponsored a bill that would prohibit insurers or pharmacy benefits managers (PBMs) from ordering pharmacies to stay mum about the cheapest option.
As it stands, some pharmacists "can only answer that question if the consumer asks," Ms. Collins said in a speech at the Pew Charitable Trusts in the District of Columbia.
"It's so counterintuitive to think that paying out of pocket is going to be cheaper than using your insurance," the senator said. "Using your debit card is going to be cheaper than using your insurance card? Who's going to ask that?"
The Maine lawmaker has been at the center of a series of health debates in the narrowly divided Senate, casting a critical vote against the GOP's push to scrap Obamacare before voting in favor of the Republican tax-cut bill, which gutted Obamacare's individual mandate — and made her a target for progressive groups' anger.
Ms. Collins said the push to slash drug prices shouldn't be a partisan issue though, because voters of all stripes see it as a pressing matter and rising costs are straining hospital budgets across the country.
"This is an issue that can bring us together," Ms. Collins said.
For its part, the Pharmaceutical Care Management Association — a trade group for PBMs — said it opposes gag clauses and would "support the patient always paying the lowest cost at the pharmacy counter, whether it's the cash price or the copay."
Ms. Collins said many PBMs have dropped the practice, "due to the publicity."...
And she praised Seema Verma, administrator at the Centers for Medicare and Medicaid Services for sending a letter to Medicare Part D plans that said gag clauses are "unacceptable," yet the senator said legislation is needed to end the practice among all types of insurance.Rep. Buddy Carter, Georgia Republican and only pharmacist in Congress, has sponsored a companion bill in the House."We want this to be law," Ms. Collins said.While she agrees with President Trump's plan to scrap gag clauses, she's not sure his push to list drug prices in TV ads would work. After all, it's unclear what consumers would actually pay after rebates or their insurance coverage is factored in."What's the price? I don't know how you'd figure out what price to list," she said. "We've got to figure out a better way to end this opaque system and figure out what the real cost is. Otherwise it's going to be like those