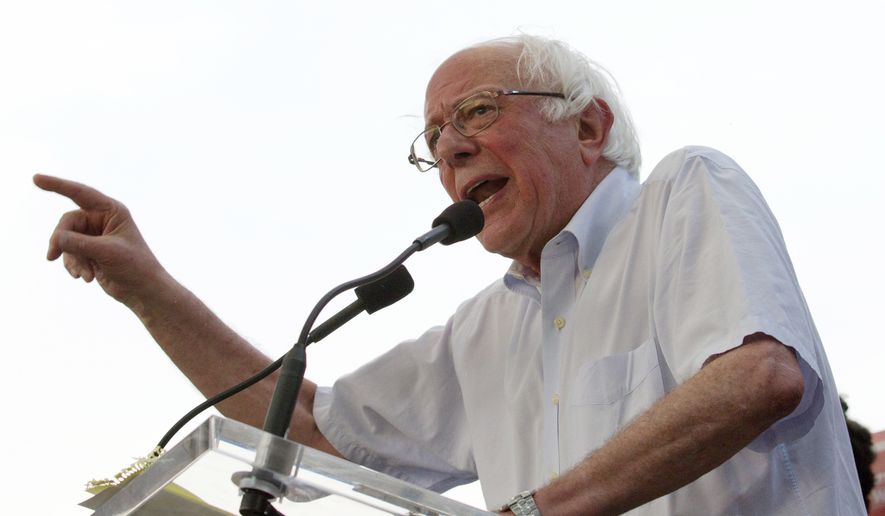 TOPEKA, Kansas (AP) — Two luminaries in the democratic socialist movement — one its national leader, the other its new star — are descending on solidly Republican Kansas on Friday, taking their emboldened liberal message to an unlikely testing ground before next month's congressional primaries.
Vermont Sen. Bernie Sanders[1] and Alexandria Ocasio-Cortez[2], who rose to fame following her surprise win in last month's New York[3] congressional primary, see an opportunity to influence Democratic voters in Kansas ahead of the state's Aug. 7 primary. They're especially focused on a crowded congressional primary in the Kansas suburbs of Kansas City.
In an election year defined by energized Democratic voters seeking to send President Donald Trump[4] a message, Sanders[5] and Ocasio-Cortez[6] are betting they can stoke the liberal march in places where the left rarely competes. Some liberal voters are welcoming the spotlight.
"Progressive voters and even some moderate voters have been disheartened by the lack of positive news from Kansas," said Anne Black, 43, a Democratic precinct committee member from suburban Kansas City.
The trip is unusual on several fronts. For one, Trump[7] won Kansas in 2016 by 20 percentage points, making it seemingly inhospitable for Democrats, much less democratic socialists. Moreover, Sanders[8] is a 76-year-old Jewish senator from Vermont, while Ocasio-Cortez[9] is a 28-year-old Latina from the Bronx who is poised to become the youngest member of Congress.
This political odd couple is scheduled to headline an evening rally in Kansas City, Kansas, for Brent Welder, a labor lawyer running in a crowded Democratic primary in Kansas' 3rd District. The district, represented by four-term Republican Rep. Kevin Yoder, is on Democrats' target list as they aim to seize the GOP-controlled House in November. Democratic presidential nominee Hillary Clinton narrowly carried the district in 2016.
Sanders[10] and Ocasio-Cortez[11] are also scheduled to campaign together in Wichita for Democrat James Thompson, a civil rights lawyer running in Kansas' 4th District. Like Ocasio-Cortez[12] and Welder, Thompson was an activist for Sanders[13]' 2016 presidential campaign.
While organizers were forced to change venues for the Wichita event because of high demand for the Friday afternoon rally, the race in the 3rd District is considered more competitive. Still, Republicans are skeptical.
State Rep. Tom Cox, a moderate Kansas City-area Republican, said there are pockets of liberal Democrats in the Kansas City suburbs but questioned whether Sanders[14]' message will resonate more broadly. He said Democrats tend to be split between liberals and moderates, with some union members and supporters holding conservative views on social issues....
"Even our Democrats around here are not socialist democrats," he said. "If someone would describe the 3rd District, I would say center right."Democrats, who have been shut out of statewide and