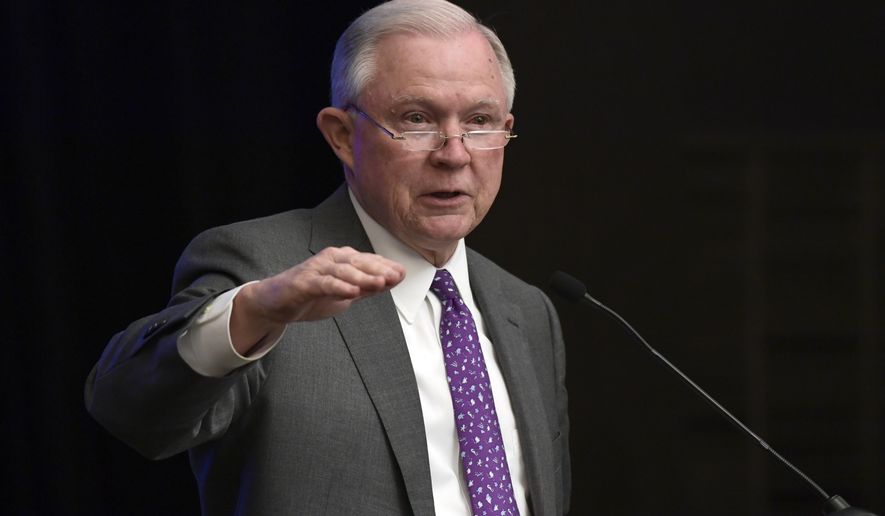 SAN DIEGO (AP) - Attorney General Jeff Sessions is planning a trip to San Diego to discuss immigration enforcement.
The Department of Justice announced Sunday that Sessions would hold a news conference Monday afternoon in San Diego. He'll be joined by Immigration and Customs Enforcement Director Thomas Homan.
No other details were released.
Sessions' visit comes about a week after hundreds of Central American migrants traveled to the U.S. border seeking asylum following a month-long caravan.
President Donald Trump and Cabinet members have tracked the caravan and called it proof that more must be done to secure the border with Mexico, including building a wall.
Sessions called the caravan "a deliberate attempt to undermine our laws and overwhelm our system," pledging to send more immigration judges to the border to resolve cases if needed.
Copyright © 2018 The Washington Times, LLC. ...
The Washington Times Comment Policy
The Washington Times is switching its third-party commenting system from Disqus to Spot.IM. You will need to either create an account with Spot.im or if you wish to use your Disqus account look under the Conversation for the link "Have a Disqus Account?". Please read our Comment Policy
[1]
before commenting.References
^
Comment Policy
(www.washingtontimes.com)