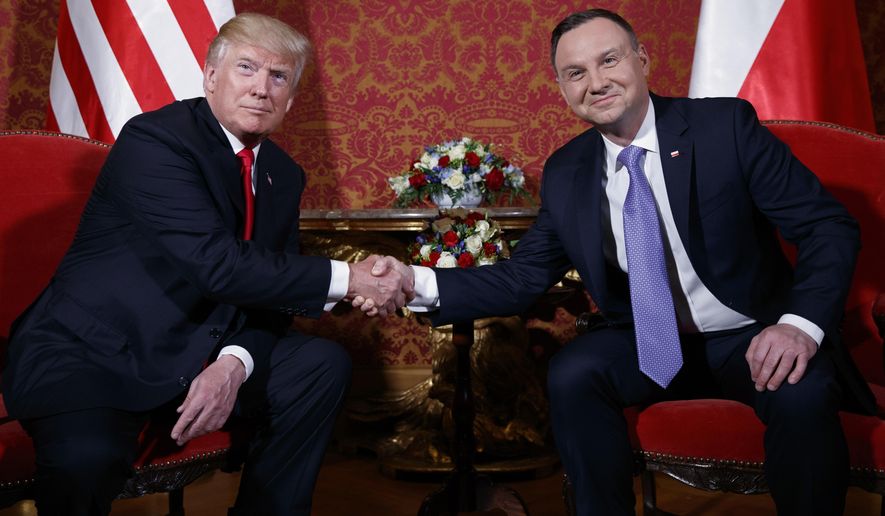 ANALYSIS/OPINION:
In response to Democrats' charges of Trump[1] treason at the Helsinki[2] summit, conservative research groups have documented a series of the president's anti-Russia[3] moves both economically and on the battlefield the past two years.
The groups say President Trump[4] has been tougher on Vladimir Putin than predecessor Barack Obama[5], who, along with his secretary of state, Hillary Clinton, defended the Russian president during the "reset" era.
One example: Earlier this year, Mr. Trump[6]'s Treasury Department used its toughest language yet, portraying Mr. Putin[7]'s government as corrupt at home and aboard. The department unleashed economic sanctions at the heart of Mr. Putin[8]'s close circle of oligarchs, including his former son-in-law.
Mr. Obama[9] did turn on Mr. Putin[10] after his 2014 annexation of Crimea from Ukraine[11]. Republicans say Mr. Obama[12] had sent the autocratic leader too many "green lights," such as mocking Mitt Romney in 2012 for calling Russia[13] the U.S.'s No. 1 strategic threat.
Mr. Trump[14] has a record of imposing pocketbook penalties on Putin-connected elites, while also sparring with Moscow on the battlefield. He twice has ordered the bombing of chemical weapons owned by Putin[15] ally Bashar Assad of Syria.
Mr. Obama[16] threatened air strikes on President Assad's military, but backed off in September 2013 after Mr. Putin[17] interceded and offered a deal: remove Assad's chemical weapons instead.
Last May, Ukraine[18] began receiving U.S. state-of-the-art Javelin anti-tank missiles. Mr. Obama[19] had resisted providing lethal aid in Kiev's war against Putin-backed separatists.
The Security Studies Group, a conservative think tank, this week issued a list of Mr. Trump[20]'s moves.
In September 2017, the administration banned the use of Kaspersky Labs software by the U.S. government because of ties to Russian intelligence[21]....
Two months later, the administration put export controls on two Russian companies developing missiles that violated the INF treaty.Last March, the U.S. ordered the expulsion of 48
Russian intelligence
[22]
officers and closed a Russian consulate in Seattle. It also put added to the sanctions list, targeting 16 Russian groups or individuals for interference in the 2016 election. Sanctions typically reduce a person's ability to do business, by restricting travel and banking.The next month, more sanctions came, this time against seven Russian oligarchs and 12 companies they control, plus 17 senior Russian officials, and a state-downed weapons trader.In June came more sanctions. The targets this time were five Russian groups and three Russians that enabled Moscow to improve offensive cyber strikes.All the while,
Mr. Trump
[23]
has kept
Mr. Obama
[24]
's post-election-interference punishments: the closure of two Russian compounds and explosion