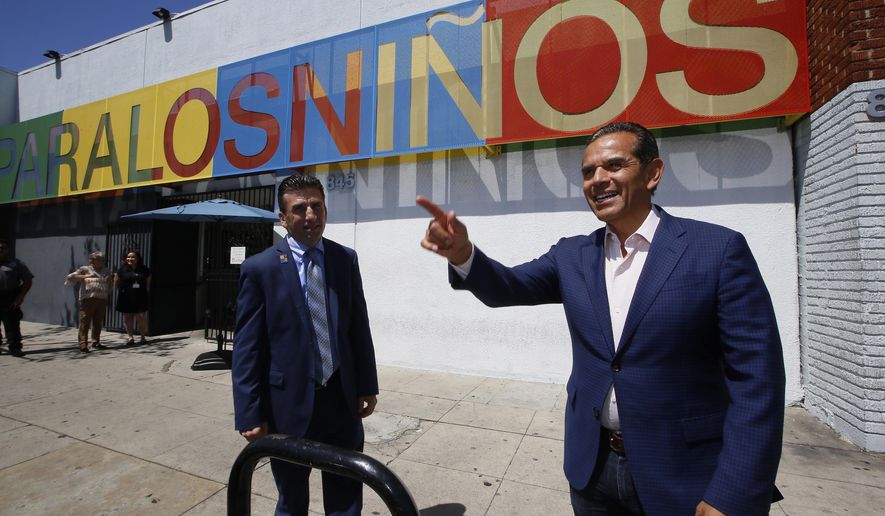 SACRAMENTO, Calif. (AP) - The California primary is a month away, but Democratic front-runner Gavin Newsom[1] is already slamming Republican rival John Cox.
Or he's helping him.
Lt. Gov. Gavin Newsom[2] aired a television ad slamming Cox's support for gun rights, noting "John Cox stands with Donald Trump and the NRA."
It's the kind of message that could benefit Cox as he seeks to consolidate Republican voters behind him instead of rival Travis Allen, a state assemblyman. Neither won the state party's endorsement at last weekend's convention, but Cox is showing stronger than Allen in polling, has much more money and the backing of prominent California Republicans.
Politics has always made for strange bedfellows, but California's top-two "jungle primary" created new incentives for odd alliances. All candidates are on the same ballot in the June primary and the top two, regardless of party, advance to the runoff in November. That means candidates aren't staying in their Republican or Democratic lanes as they would in a traditional primary.
Newsom[3] has been clear he hopes to face a Republican, and the ad allows him to draw an early contrast with Cox while making him more appealing to the Republican party base. Cox, meanwhile, is locked in a struggle for second place with former Los Angeles Mayor Antonio Villaraigosa, a Democrat. Cross-party tangling is sure to be on display Tuesday at a debate in San Jose, where the three, along with Allen and two other Democrats, will be on stage together for the last time ahead of the June 5 primary.
While Newsom[4]'s ad is the most blatant example, he's not the only candidate to spend time talking about rivals from the other party. Democrat John Chiang's campaign has called Allen "TrumpLite." Allen has attacked Newsom[5]'s support for California's "sanctuary state" law, while Cox has accused all his rivals of benefiting from a political system he calls corrupt.
Polls show Newsom[6] has a decisive lead with a close contest for the second spot. Newsom[7]'s road to the governor's mansion - which he's been openly traveling for years - would be easier if his rival comes from the GOP in a state where Democrats far outnumber Republicans.
"This is not about winning the political argument in November," said Thad Kousser, chair of the political science department at University of California, San Diego. "This is about having the governor's race be over before June 6."...
For Republican Party officials, getting a candidate into the runoff has its own benefits - a standard bearer to carry the GOP message in a high-profile race while the party tries to fend off Democratic enthusiasm and hold onto congressional and legislative seats.Chiang, Villaraigosa and fellow Democrat Delaine Eastin have all been sharply critical of
Newsom
[8]
in their own ways.Villaraigosa has portrayed
Newsom
[9]