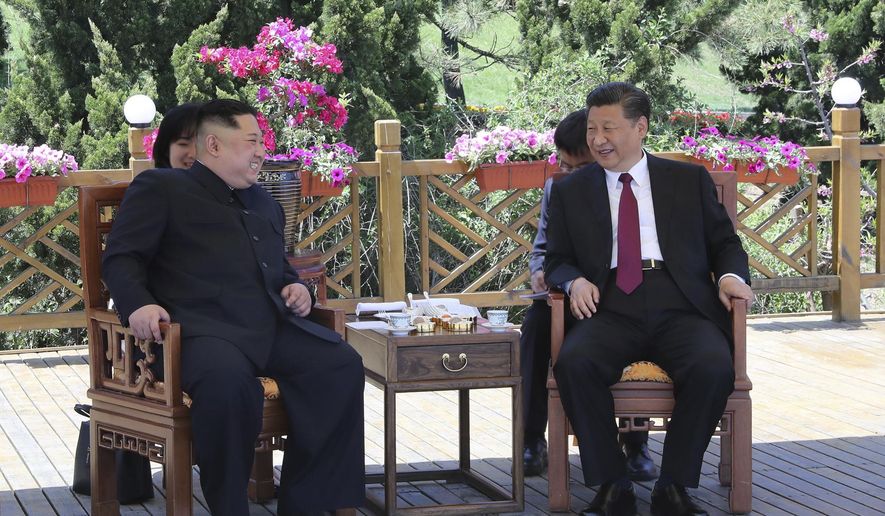 BEIJING (AP) - North Korean leader Kim Jong Un met with Chinese President Xi Jinping in a northern Chinese port city and pledged his continuing commitment to denuclearization ahead of his expected summit with U.S. President Donald Trump, state media said Tuesday.
The meeting Monday and Tuesday in Dalian is the second between Xi and Kim in recent weeks, following Kim's March visit to Beijing - his first since taking power six years ago.
In comments carried Tuesday night by Chinese state media, neither leader was quoted as directly referring to either the planned Trump meeting or Kim's summit with South Korean President Moon Jae-in late last month.
However, state broadcaster CCTV quoted Xi as saying China "supports North Korea to stick to denuclearization of the Korean Peninsula and supports North Korea and the U.S. in solving the peninsula issue through dialogue and consultation."
Trump tweeted Tuesday that he planned to speak with Xi later in the day to discuss trade and North Korea, where he said "relationships and trust are building."
Kim was quoted as telling Xi that North Korea remains committed to denuclearization and has no need to possess nuclear weapons if a "relevant party" drops its "hostile policy and security threats" against it, in a clear reference to the United States.
"I hope to build mutual trust with the U.S. through dialogue," Kim was quoted as saying. A political resolution of tensions on the peninsula and denuclearization should proceed in stages, with all sides moving in concert, he said. The Trump administration has demanded that North Korea immediately commit to denuclearization.
North Korea announced Kim's visit to China fairly quickly, probably in coordination with China's state media. The first reports were brief, however.
North Korea has been very cautious about coverage of Kim's recent summits, but has featured them prominently on TV and in newspapers a day or so after they are safely over and Kim has returned to the capital....
Though rumors are likely widespread, there still has been no explicit confirmation in North Korea's media of the expected summit with Trump.The recent South Korean summit and the potential U.S. talks have received more attention internationally, but China's role as an economic lifeline for North Korea makes the talks between Xi and Kim all the more crucial.Kim needs to make sure that whatever negotiations he has with Trump align to some degree with Beijing's positions, which could certainly complicate his task ahead.China's official Xinhua News Agency said Xi hosted a welcome banquet for Kim on Monday and the two leaders strolled along the coastline at a government guesthouse and had lunch together on Tuesday."At a crucial time when the regional situation is developing rapidly, Kim said he came to China again to meet with (Xi) and inform him of the situation," Xinhua said.CCTV showed Xi wearing a western business suit and Kim in his standard high-collared Mao suit. They stood on a beach, sat under