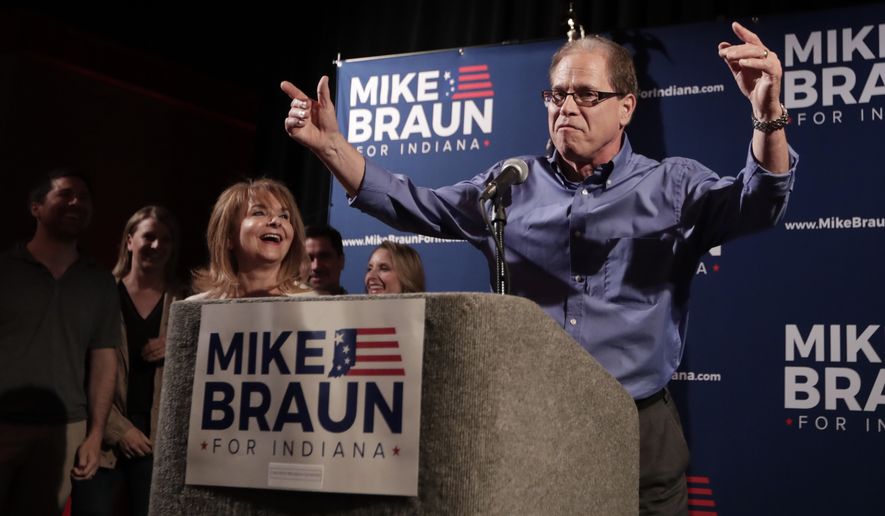 Mike Braun emerged victorious in the GOP Senate primary in Indiana, triumphing over two members of Congress in a bitter contest that turned into a wrestling match over which of them was most committed to President Trump[1].
The elections Tuesday in Indiana, as well as in North Carolina, Ohio and West Virginia, were the first of 11 primaries slated to take place this month that will be the latest tests of the anti-establishment fervor that helped power Mr. Trump[2] into The White House.
"Tonight, Hoosiers spoke loud and clear — they want a conservative outsider representing them in the U.S. Senate and I am grateful to have their support," Mr. Braun said after winning the Indiana primary. "From the beginning our message has been pretty simple — we need more outsiders and less career politicians in Washington. More folks that have done something in the real world."
The night featured dozens of legislative and congressional primary races, and three high-profile Senate primaries that will set the stage for some of the most-anticipated contests in Trump[3] country this fall.
Mr. Trump[4]'s influence was felt in several races, most notably in West Virginia, where former imprisoned coal baron Don Blankenship's insurgent bid fell flat after Mr. Trump[5] warned voters against supporting him.
Mr. Blankenship finished third, well behind Attorney General Patrick Morrisey, who won the nomination, and second-place finisher Rep. Evan Jenkins.
Mr. Trump[6] also waded into the primary race in Ohio, endorsing Rep. James B. Renacci, who emerged victorious in GOP primary field that also featured businessman Mike Gibbons.
Mr. Renacci will square off in November with Sen. Sherrod Brown, a Democrat who is seeking a third term.
Mr. Trump[7] stayed out of the fierce battle in Indiana, as the candidates ran for the chance to take on Sen. Joe Donnelly, another vulnerable Democrat....
The race was called two hours after the polls closed at 7 p.m. With 93 percent of the precincts counted, Mr. Braun had captured 41 percent of the vote, compared to 30 percent for Rep. Todd Rokita and 29 percent for Rep. Luke Messer.Mr. Braun pumped millions of dollars from his personal fortune into touting his credentials as a businessman and political "outsider" and casting Mr. Rokita and Mr. Messer as "career politicians."After the race was called, Mr. Braun immediately shifted his attention to Mr. Donnelly, saying the incumbent is "just another career politician who has spent nearly his entire career in politics and government.""When he's in Indiana he acts like one of us, but in Washington he votes against us, against President
Trump
[8]
and in lockstep with the Democrats," Mr. Braun said.The National Republican Senate Committee congratulated Mr. Braun, saying the general election will offer a clear contrast between the two candidates."Mike Braun will provide President
Trump
[9]
with a new partner