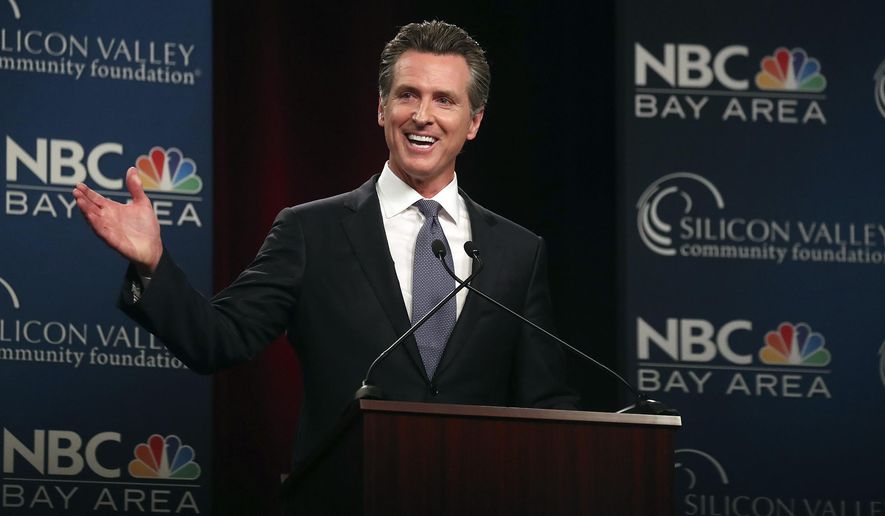 SAN JOSE, Calif. (AP) - The candidates for California governor sparred - at moments intensely personally - over issues from immigration and taxes to infidelity, but the last major debate did little to fundamentally shake up the race.
Gavin Newsom[1], the lieutenant governor and former San Francisco mayor, entered Tuesday's debate firmly in first place and absorbed blows from his rivals from both parties seeking the second of two slots on the general election ballot. He ignored the Democrats but engaged in several tense exchanges with the Republicans.
In the tensest of them all, Republican Assemblyman Travis Allen referenced an affair Newsom[2] had with a San Francisco staffer who was married to his friend and adviser.
"If you can't trust Gavin[3] with his best friend's wife how can you trust him with your state?" Allen said.
Newsom[4] shot back: "It's hard, with respect, to hear from Mr. Allen - who's a devout supporter of Donald Trump - talk about the issue of sexual harassment."
He went on to say that his actions had been wrong, but he learned and grew from the experience.
Former Los Angeles Mayor Antonio Villaraigosa, who also faced a high-profile adultery scandal while in office, said he's tried to "make amends to my city.
"I made a mistake. I lost my marriage. I lost my family for a time," Villaraigosa said. "I took responsibility for it. My whole life I've taken responsibility for my actions."
Allen, meanwhile, dismissed a sexual harassment complaint filed against him as a minor issue ginned up by Democrats....
All the candidates are on the same ballot in the June 5 primary and the top two, regardless of party, advance to the general election in November.The debate, held in San Jose, was the only one televised statewide. With millions of mail ballots already on their way to voters, the six leading candidates worked to distinguish themselves from the crowd and land a memorable performance. It was perhaps the last best chance for candidates trailing
Newsom
[5]
to break out or change the dynamics of a race that has played out largely under the radar as California's elected leaders focused on fighting Trump's agenda.An April poll by the Public Policy Institute of California showed
Newsom
[6]
supported by 26 percent of likely voters. John Cox, a Republican businessman from San Diego, was second at 15 percent, followed by Villaraigosa at 13 percent and Allen at 10 percent.Democrats John Chiang and Delaine Eastin were in the single digits while 22 percent of voters said they were undecided in the survey of the 867 likely voters. The poll had a margin of sampling error rate of 4.4 percent.Some of the sharpest exchanges Tuesday were between the two Republicans, who are fighting over a smaller share of voters in a state where Democrats dominate.They sparred over the gas tax, each presenting