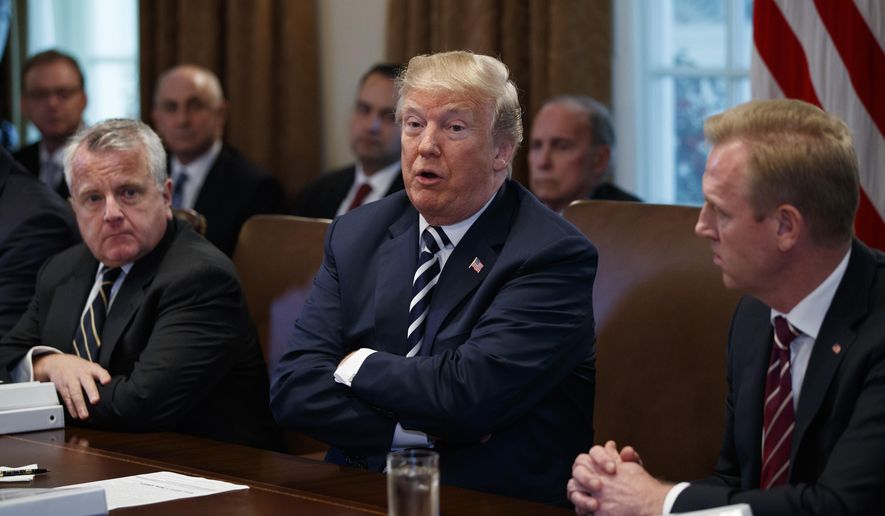 ANALYSIS/OPINION:
As we ponder the wisdom of President Trump[1]'s Iran[2] strategy, consider what's happening at the other end of Asia.
It would have seemed impossible just a year ago, but North Korea[3] continues to take meaningful steps toward denuclearization by improving relations with its immediate neighbors and by building trust with the U.S.
It was not that long ago that the North Korean regime was firing off ballistic missiles into the Sea of Japan and cruelly killing American college student Otto Warmbier. But Mr. Trump[4] has been strong, consistent and credible with North Korea[5] from the very beginning and now Pyongyang has come to the table to talk.
The lesson of the North Korean nuclear crisis: "Maximum pressure" has worked.
The Trump administration boosted joint military exercises with South Korea and Japan, organized two sweeping sanctions packages under the skillful leadership of U.N. Ambassador Nikki Haley; and convinced Chinese President Xi Jinping to take specific steps to isolate the North Korean regime and cut off Pyongyang's economic lifeline. In the face of considerable skepticism, the U.S. got China to ban North Korean exports of coal, iron ore, and other raw materials, while putting a cap on oil supplies.
Mr. Trump[6] spent significant time in the early months of his presidency negotiating with China, including an invitation for Mr. Xi to Mar-a-Lago to establish a strong, personal working relationship.
North Korea[7] and Iran[8] are different challenges, with regional, religious, cultural and historical differences. But many of the principles in one crisis are directly transferable to the other.
In announcing his decision to withdraw from the Iran[9] nuclear deal this week, Mr. Trump[10] rightly said that the move "sends a critical message. The United States no longer makes empty threats."...
From the beginning,
Mr. Trump
[11]
has said that
North Korea
[12]
would not be able to threaten the world with nuclear weapons. That was a promise he made, and it is a promise he intends to keep.The process with
Iran
[13]
is more complicated.The
Iran
[14]
deal will begin a wind-down on two tracks, with one track on a 90-day timeline and another on a 180-day timeline.President
Trump
[15]
did not just withdraw from the deal. He reinstated U.S. nuclear sanctions on the Iranian regime immediately. He also put other nations that do business with
Iran
[16]
on notice that they could also be sanctioned if they continued to do business with the regime in Tehran.The
Iran
[17]
deal was unbelievably one-sided and not in U.S. interests. It provided massive financial resources to the regime, which the mullahs used to develop new ballistic missiles and underwrite military adventures in Iraq and Syria. The inspection regime under the 2015