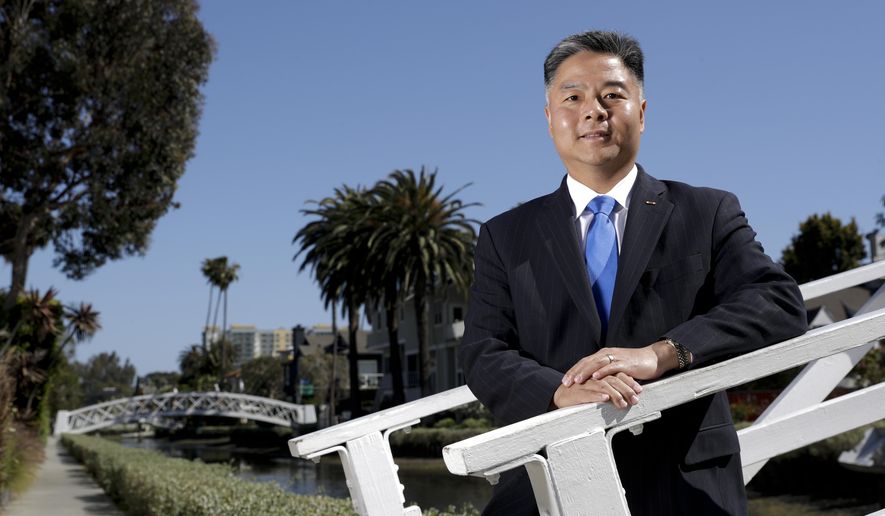 Members of the country's fastest growing minority group are running for federal office, dozens of them as Democratic candidates deliberately playing up their Asian roots against a president they say demonizes the immigrants that make America great.
The candidates include former refugees from Vietnam and children of immigrants from South Korea and India. They live in places where Asian Pacific Americans make up a large chunk of the electorate and in places where they do not. Their chances of winning vary.
But the candidates' unabashed celebration of their foreign ties is notable for a group of people who have had to prove their "American-ness," no matter how long their families have been in the country.
"I think partly it is a reaction to the current administration which has in its policies and statements sent out a very xenophobic message," says Rep. Ted Lieu, D-Calif., who is campaigning for a third term in the House.
"It's also a recognition that what makes America great is immigration and the American dream; it's what people all over the world come to seek," he said.
Christine Chen, executive director of the nonpartisan Asian and Pacific Islander American Vote, or APIAVote, says 2018 could be a watershed year for civic participation.
Asians, who make up 6 percent of the population, have traditionally lagged in voting due to language and cultural barriers and minimal outreach from political parties, she says.
In the 2016 presidential election, for example, about 49 percent of eligible Asian voters cast ballots. That was less than the 65 percent for whites and 60 percent for blacks but slightly higher than the 48 percent figure for Latinos.
It's hard to say definitively how many Asian Pacific Americans are running for Congress, although The Associated Press identified at least 80 candidates of both parties. More than a dozen candidates are Republicans, and the rest are Democrats, including incumbents....
There are currently 18 Asian Americans or Pacific Islanders in Congress; three are in the Senate."What's fascinating with the congressional candidates is they're coming from everywhere," Chen said, ticking off races in Georgia, Michigan, Arizona, New Jersey and Texas. "What we're hoping is with all these people running, and if they win, that will continue to change how people perceive the community."Among the candidates are nearly three dozen Asian Pacific Americans seeking to overturn Republican seats in the U.S. House as part of a broader Democratic surge to take control of the chamber. Some of them have already been eliminated, but others have advanced.Hamilton County Clerk of Courts Aftab Pureval, for example, won Ohio's Democratic primary on Tuesday. He faces incumbent Rep. Steve Chabot, R-Ohio, in November.A National Republican Congressional Committee spokesman, Jesse Hunt, said that the GOP also has compelling and diverse candidates. Republican Young Kim, for example, is a Korean-American who is on the June 5 California primary ballot."When my family came to this country, we came legally," she says in a 30-second