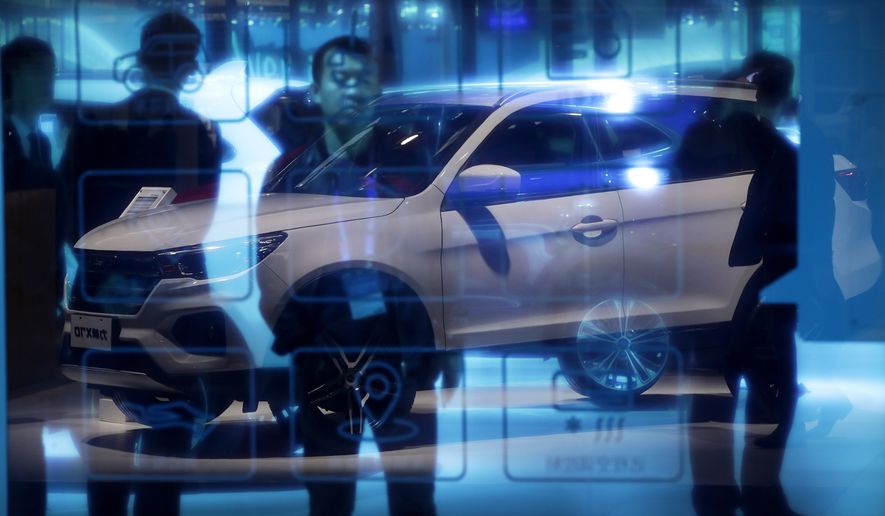 Despite President Trump[1] grousing about China's high tariffs on American cars, China ranks as the second largest importers of U.S. automobiles, according to the administration's own numbers.
Mr. Trump[2] likely will hear more about that Friday when he huddles with automotive executives at the White House.
An outspoken champion of the U.S. auto industry, the president repeatedly boasts of new car and truck plants opening in the South and Midwest since he took office — part of the rush of companies he says are now returning to the U.S. after decades shipping jobs abroad.
But Mr. Trump[3]'s trade policies, specifically tariffs on steel and threat of trade war with China, has raised eyebrows among U.S. automakers.
The president also will get an earful about the administration's push to lower Obama-era fuel efficiency standards and the clash with California over its higher standards, as well as the hodgepodge of emissions requirements from state to state.
Major automakers this week called on the administration to keep raising fuel economy standards through 2025 and reach an agreement with California to avoid a court battle.
"They wouldn't be meeting with [Mr. Trump[4]] if they thought everything was going well," said Bruce M. Belzowski, managing director of University of Michigan Transportation Research Institute's Automotive Futures group.
Still, the automotive industry doesn't want to alienate a president who has been overwhelmingly pro-business.
"It is going to be business leaders talking to a business leader," said one industry insider....
Mr. Trump
[5]
frequently points to Beijing's high tariffs on automobiles to highlight the two country's unequal trade relationship. He wants a more balanced relationship."The word that I want to use is 'reciprocal.' When they charge 25 percent for a car to go in, and we charge 2 percent for their car to come into the United States, that's not good,"
Mr. Trump
[6]
said in March when slapping tariffs on $50 billion of Chinese high-tech imports.
Mr. Trump
[7]
has demanded a $100 billion reduction in America's $375 billion annual trade deficit with China, and forcing Beijing to open its market to more U.S. automobiles has been a top issue for the administration.But the U.S. enjoys a trade surplus with China with autos.The U.S. imported 58,000 vehicles worth $1.5 billion from China in 2017, while exporting to China 267,000 automobiles with $9.9 billion, according to the Commerce Department.The cars and trucks made in China — mostly by U.S. automakers with factories in the communist country — accounted for less than 1 percent of the $191 billion worth of autos imported last year to America, according to the data collected by Commerce.The administration's proposed tariffs expanded to target $150 billion worth of Chinese goods. That's on top of the administration's 25 percent tariff on steel and 10 percent tariff on aluminum.Beijing responded with tariffs targeting automobiles and a variety of U.S. goods