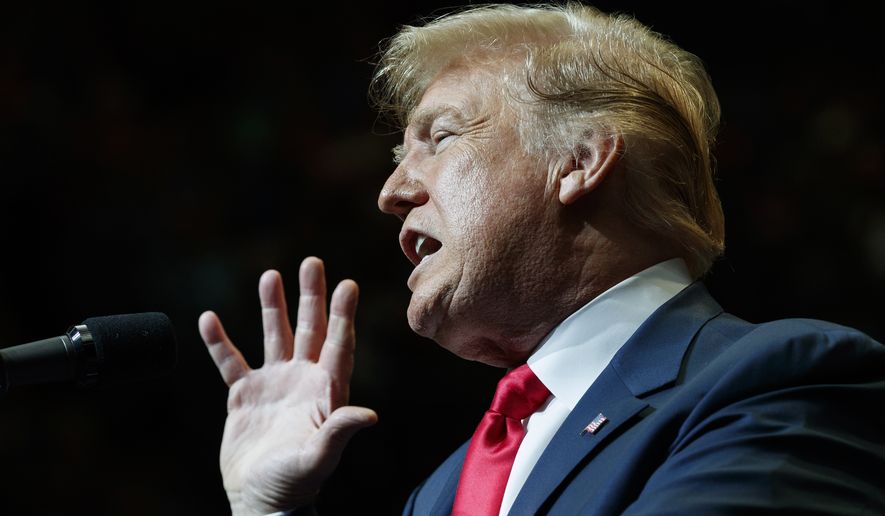 President Trump[1] boasted Thursday night that he secured the freedom of three American captives from North Korea for no money, while claiming that former President Barack Obama paid $1.8 billion to Iran to release U.S. hostages two years ago.
Speaking at a boisterous campaign rally in Elkhart, Indiana, Mr. Trump[2] exulted in the return of the three Americans whom he greeted earlier in the day upon their arrival back in the Washington area.
"We didn't pay for them," Mr. Trump[3] said. "They came out for nothing. Those hostages came out with respect."
Referring to Mr. Obama's negotiations with Iran in 2016, Mr. Trump[4] said, "Obama, President Obama, paid $1.8 billion for hostages. Can you believe that? The others came out for $1.8 billion in cash."
He was talking about a deal that sent $1.7 billion in U.S. funds to Iran, announced with the freeing of five Americans from Iranian jails. Critics at the time said it amounted to a ransom payment.
The Treasury Department wired the money to Iran around the same time that Tehran allowed three American prisoners to fly out of the country. In a prisoner swap, two other Americans held in Iran were released and seven Iranians charged or convicted by the U.S. returned to Iran.
The Obama administration said the money was a financial settlement ending a decades-old legal dispute dating from the Iranian revolution in 1979.
The moves two years ago coincided with the implementation of the nuclear agreement with Iran, which lifted economic sanctions in exchange for Iran curtailing its nuclear program. Mr. Trump[5] pulled the U.S. out of that pact this week, saying it was unworkable.
North Korea's release of the three Americans came ahead of a June 12 summit between Mr. Trump[6] and North Korean leader Kim Jong -un on denuclearization. The president said at the rally that he's optimistic of a deal....
"We're going to make a great deal for the world," he said. "Kim Jong-un did a great service to himself, to his country. What he did was the right thing."Mocking critics who said he was risking nuclear war with North Korea,
Mr. Trump
[7]
said, "You know what gets you into nuclear wars? You know what gets you into other wars? Weakness."The rally was held before a capacity crowd of about 7,000 at Elkhart's largest basketball gymnasium. Attendees traveled from at least five other states to see the president: Ohio, Michigan, Iowa, Wisconsin and Minnesota.The president pointed to positive economic news, including historically low unemployment rates for minorities."The Democrats have had a lock on the Hispanic vote and they've had a lock on the African-American vote. No longer," he said."All of the great momentum we're having as a country… it's all at stake in November. It can disappear quickly."He said the country's positive direction "can also disappear if