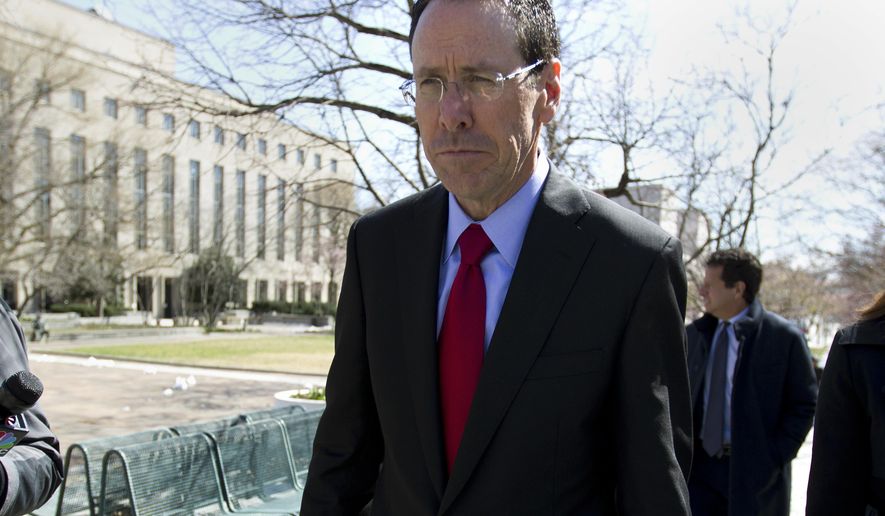 NEW YORK (AP) - The chief lobbyist for AT&T; is leaving the company after overseeing a $50,000-per-month contract for President Donald Trump's attorney Michael Cohen to serve as a political consultant.
In a memo to employees, AT&T; CEO Randall Stephenson said the company made a "big mistake" in hiring Cohen as a political consultant. While everything the company did was legal, Stephenson said that the association with Cohen was "a serious misjudgment."
Stephenson noted that the company's reputation has been damaged and that the vetting process used by its team in Washington "clearly failed." The Washington team had hired Cohen under a one-year contract that paid $50,000 a month.
Stephenson said Bob Quinn, senior executive vice president of the external and legislative affairs group, "will be retiring."
The Justice Department is seeking to block AT&T;'s $85 billion purchase of Time Warner on the grounds that it would stifle competition. AT&T; disagreed, sending the battle into a federal trial. U.S. District Judge Richard Leon is expected to rule next month.
AT&T; said Cohen approached the company after the 2016 presidential election and said he was leaving the Trump organization to do consulting for a "select few" companies that wanted his opinion on Trump and the administration. AT&T; said it had been looking for consultants who could help it understand the president's approach to regulatory reform at the Federal Communications Commission, tax reform and antitrust enforcement - "specifically our Time Warner deal."
AT&T; has said it needs to buy Time Warner to compete with the likes of Amazon, Netflix and Google in the rapidly evolving world of video entertainment. The Justice Department's antitrust lawyers worry that consumers will end up paying more to watch their favorite shows, whether on a TV screen, smartphone or tablet.
The company said it was contacted by investigators with special counsel Robert Mueller and provided "all information requested in November and December of 2017." There has been no communication with Mueller's office since then, the company said.
Copyright © 2018 The Washington Times, LLC. ...
The Washington Times Comment Policy
The Washington Times is switching its third-party commenting system from Disqus to Spot.IM. You will need to either create an account with Spot.im or if you wish to use your Disqus account look under the Conversation for the link "Have a Disqus Account?". Please read our Comment Policy
[1]
before commenting.References
^
Comment Policy
(www.washingtontimes.com)