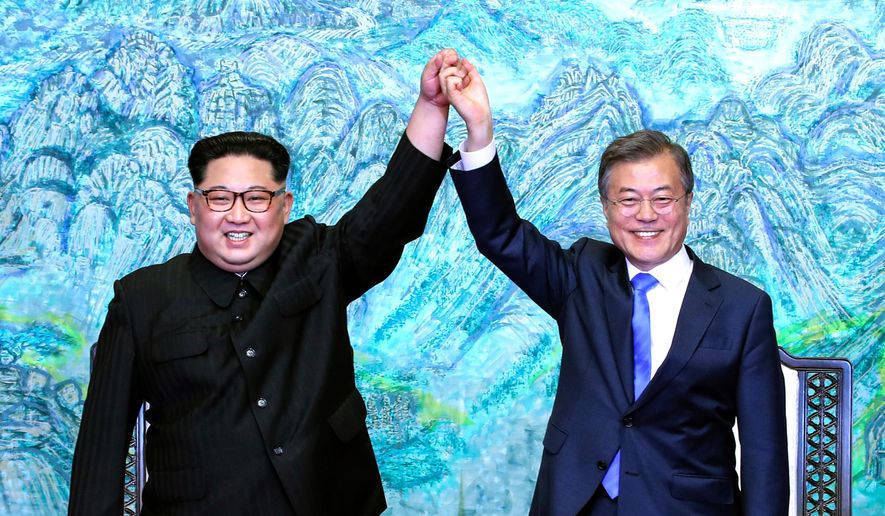 SEOUL, South Korea (AP) - To his supporters, South Korean President Moon Jae[1]-in is a master negotiator who's fixing decades of bad nuclear diplomacy with North Korea[2]. To his critics, he's falling prey to the same old trap that has claimed previous South Korean presidents - but with an important difference: This time the stakes are much higher.
Whoever's right, it's hard to ignore Moon[3]'s role as the architect behind a new global push to settle the nuclear standoff with the North. The outcome of his efforts may hinge on a meeting in Singapore next month between North Korean leader Kim Jong Un and President Donald Trump[4], who spent months contemplating military strikes against the North before Moon[5] steered him to the table.
Moon, a soft-spoken liberal, last month hosted Kim[6] in a summit that saw them stride hand-in-hand across the border and pledge the "complete denuclearization" of the Korean Peninsula, an ambitious declaration that was light on specifics.
Moon doesn't have the power to resolve North Korea[7]'s weapons programs on his own. But in hustling between Pyongyang and Washington[8] to set up the Kim-Trump[9] summit and offering to broker other meetings with Pyongyang, Moon[10] is fulfilling his promise to push South Korea[11] into the driver's seat in diplomacy with the North.
"South Korea[12] has never had a leader like Moon[13], who actively embraced a leading role in planning and coordinating a global approach to the North," said Hong Min, a senior analyst at Seoul's Korea Institute for National Unification. "He managed to convince Washington[14] that Pyongyang would change course after a year of brinkmanship. He convinced Pyongyang he would be able to move Washington[15]."
Despite the dangers - a derailed Trump[16]-Kim[17] summit might revive the animosity that enveloped the peninsula last year - Moon[18]'s push has proven wildly popular: A Gallup Korea poll last week measured his approval rating at 83 percent, a striking number in a country deeply divided along ideological and generational lines.
___
PULLING THE STRINGS
Moon[19]'s central presence could be seen Wednesday in a three-way meeting in Tokyo when he got the premiers of Japan and China to issue a joint statement in support of the inter-Korean declaration, which he's looking to sell as a meaningful breakthrough that could create a positive atmosphere for the Kim-Trump[20] meeting....
The recent flurry of diplomatic activity was almost unimaginable for most of last year when the North ripped off a torrid run of weapons tests, including an underground detonation of a purported thermonuclear warhead and three separate tests of intercontinental ballistic missiles with a range that could strike