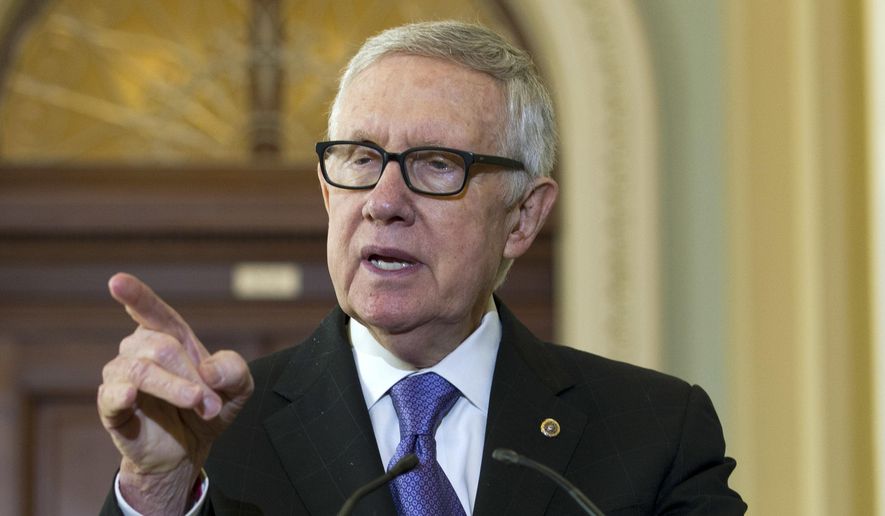 Then-Senate Democratic leader Harry Reid released a letter in the heat of the 2016 election alleging Trump-Russia collusion even though the CIA director at the time urged him not to, according to a person familiar with their conversation.
Mr. Reid's Aug. 27 letter to the FBI appears to mark the first time a Democrat officially accused President' Trump's campaign of colluding with the Russian government to hack his party's computers.
The letter has come to represent for conservatives the "deep state" — Obama loyalists leaking unproven allegations to the press against Mr. Trump and his people to ruin the campaign, the transition and the White House.
"The evidence of a direct connection between the Russian government and Donald Trump's presidential campaign continues to mount," Mr. Reid wrote to FBI Director James B. Comey.
Mr. Reid wrote and leaked his letter after receiving a secret telephone briefing from then-CIA Director John Brennan.
The retired senator has portrayed the letter as having the blessing of Mr. Brennan, a fierce Trump critic who suggests the president is beholden to Russian President Vladimir Putin for fear of blackmail.
But now the Brennan side rebuts Mr. Reid's contention that the then-CIA director was actively trying to leak damaging anti-Trump information during the election.
Nick Shapiro, former deputy chief of staff for Mr. Brennan as CIA director, told The Washington Times that his ex-boss considered the information sensitive. He expressly urged Mr. Reid to confine the information to private discussions with Mr. Comey.
That August, Mr. Brennan was briefing the so called "gang of eight" congressional leaders on Russian computer hacking and on suspicious that Trump people were involved....
Mr. Shapiro, now a Brennan adviser, provided this version of the Brennan-Reid phone call:"Brennan used the same exact notes to brief Reid as he used with the other members of the Gang of Eight. In fact, most of the conversation was spent with Senator Reid telling Brennan what he had heard about Russians and the Trump campaign. Senator Reid informed Brennan that he was in the process of drafting a letter to Comey about his concerns. When Senator Reid asked Brennan whether he could reference this information in the letter to Comey, Brennan said 'no,' as the intelligence was being tightly controlled and he was worried that the letter would get out into the public. Brennan told him that Comey had been fully briefed on the intelligence and if he wanted to, it would be better to talk to him about it in a secure manner when he returned to D.C. instead of putting it in a letter."Mr. Reid, Nevada Democrat, wrote the letter anyway. And it was leaked to The New York Times and then migrated throughout the mainstream media.It contained references to a Trump aide traveling to Moscow and allegedly meeting with two sanctioned Kremlin figures — an allegation contained in the Democratic Party-financed dossier written by ex-British spy Christopher Steele. The unnamed person