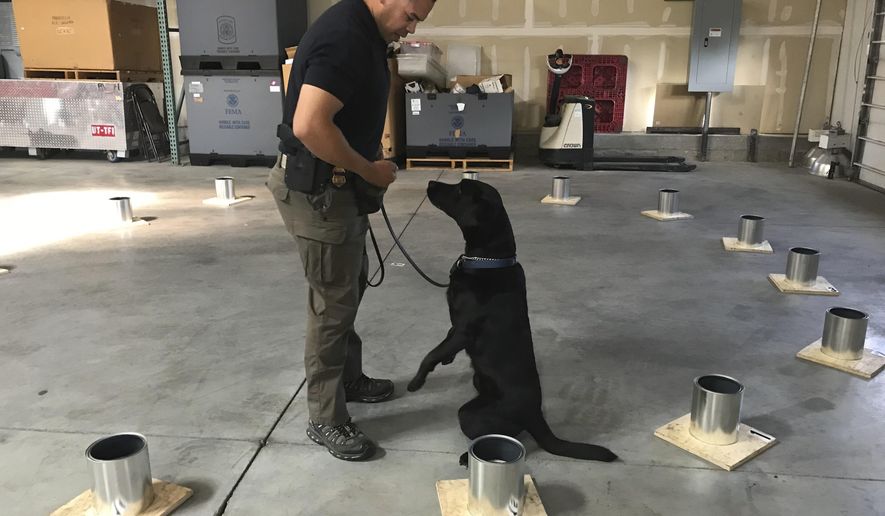 WEST JORDAN, Utah (AP) - Law enforcement K-9 officers from a dozen different agencies gathered in Utah recently to hone their dogs' sniffing and detection skills.
The Deseret News reports representatives from the Bureau of Alcohol, Tobacco, Firearms and Explosives visited a fire department facility in West Jordan for a three-day training and evaluation session with 21 law enforcement dogs.
The session involved personnel from local, state and federal agencies, including dogs from Salt Lake County's Unified Fire Authority, the Utah Transit Authority Police Department and the U.S. Air Force.
The dogs practiced their detection abilities by sniffing for explosive odors in a training course.
Cody Monday, a K-9 trainer course developer for the ATF, says the training and testing allowed the agencies to "make sure they have the best working dog that they can."
___
Information from: Deseret News, http://www.deseretnews.com
Copyright © 2018 The Washington Times, LLC. ...
The Washington Times Comment Policy
The Washington Times is switching its third-party commenting system from Disqus to Spot.IM. You will need to either create an account with Spot.im or if you wish to use your Disqus account look under the Conversation for the link "Have a Disqus Account?". Please read our Comment Policy
[1]
before commenting.References
^
Comment Policy
(www.washingtontimes.com)