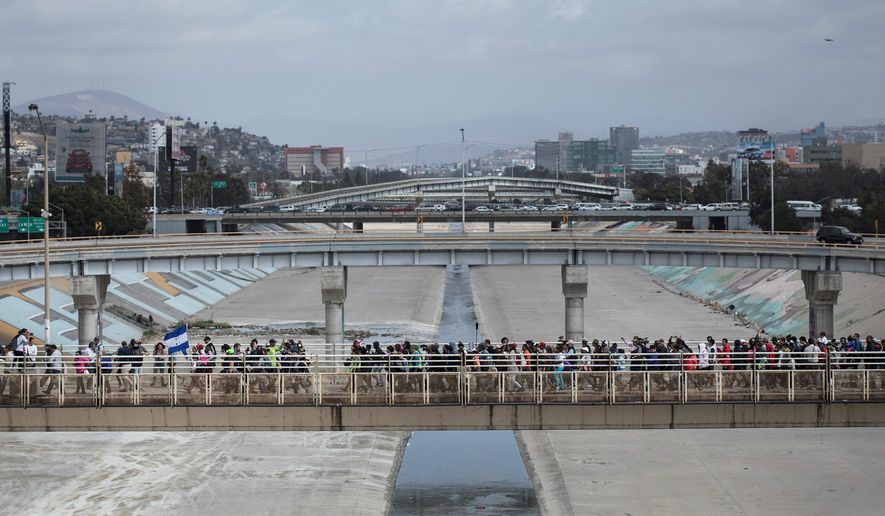 The Trump administration[1]'s "zero tolerance" vow to pursue criminal charges against all illegal border crossers is already stumbling, with one judge cutting migrants loose without any bail payment and federal prosecutors telling Border Patrol agents that they are full up and can't bring cases against everyone.
There have been some prosecutions — two illegal immigrants who were part of the illegal immigrant caravan who jumped the border in Texas and were nabbed by agents from the Laredo region were quickly prosecuted, agreed to plea deals and slapped with five-day jail sentences last week.
But elsewhere, agents are finding that when they apprehend illegal immigrants and turn the cases over to prosecutors, the prosecutors are not interested.
Thirteen illegal immigrants nabbed by agents in the Border Patrol's Boulevard station in California were declined on Friday alone, said Brandon Judd[2], president of the National Border Patrol Council, and an agent himself. He said his fellow agents were telling him that prosecutors were picking and choosing, constrained chiefly by resources, leaving "a good number of them … being turned down" for prosecution.
"It's a far cry from zero tolerance," Mr. Judd[3] told The Washington Times.
Attorney General Jeff Sessions announced the zero-tolerance policy in April, soon after the government revealed that illegal immigration across the southwestern border had soared 203 percent in March, according to year-over-year comparisons. The announcement also was made just as the illegal immigrant caravan was testing the administration[4]'s resolve.
"To those who wish to challenge the Trump administration[5]'s commitment to public safety, national security and the rule of law, I warn you: Illegally entering this country will not be rewarded but will instead be met with the full prosecutorial powers of the Department of Justice," Mr. Sessions said at the time.
But in the weeks since, the numbers have only worsened: 230 percent higher so far in may than the same time last year.
Some have been prosecuted under the zero-tolerance policy, including at least 13 members of the caravan who jumped the border in recent weeks....
Two caravan members caught in Texas on May 4 were charged with illegal entry, entered guilty pleas on May 9 and agreed to five-day sentences — apparently covering the time they had already served.In Southern California, where the caravan's effects were more prevalent, prosecutors lodged charges against 11 migrants and were offering them time-served plea deals as well.Illegal entry is a misdemeanor and can be punished by up to six months in jail. Illegal re-entry after a deportation is a felony and can earn up to two years in prison.A spokesperson for Adam L. Braverman, the U.S. attorney in Southern California, declined to comment on the decision-making, citing the ongoing cases.A Homeland Security official said the department was doing what was asked of it: apprehending and referring all illegal immigrants for prosecution.That suggests the problem is