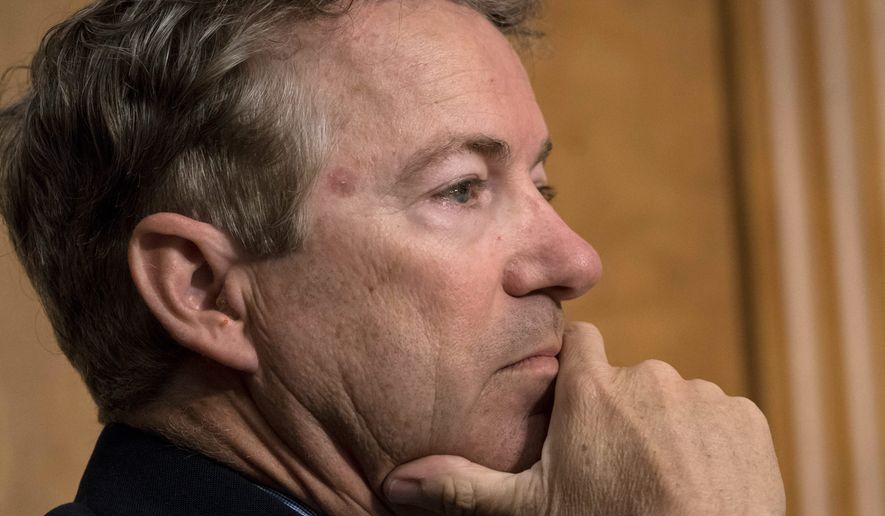 Sen. Rand Paul[1] is facing increasing pressure to back President Trump[2]'s nominee to head the CIA[3], Gina Haspel[4], as the libertarian lawmaker's hometown newspaper urged him to back his fellow Kentuckian.
On Wednesday, Republican members of the Senate Select Committee on Intelligence are expected to unanimously approve Ms. Haspel[5]'s confirmation in a closed-door session which will also tackle the intelligence community's January 2017 assessment of Russian election meddling.
Last week, Ms. Haspel[6], the longtime veteran of the CIA[7]'s clandestine service and now the agency's acting director, appeared before the panel to promise committee members she would fight any efforts to reimpose post-9/11 interrogation practices. But critics have said she should have been more forceful in denouncing torture and Mr. Paul[8] has said she had not come fully clean on her role in the agency's harsh interrogation and secret prison programs in the wake of the 9/11 attacks.
After Wednesday's closed-door committee vote, the full Senate will likely consider her confirmation next week. If approved, she will be the first woman to head the agency.
Before that, Ms. Haspel[9] needs to secure more Republican votes with Mr. Paul[10], a Kentuckian known for his independent streak and libertarian views, at the center of the confirmation drama.
She needs only 50 votes but Republicans enjoy just a slim 51-49 majority in the chamber. Thus far two Democrats, Sen. Joe Manchin III, West Virginia and Joe Donnelly, Indiana, have pledged support.
The GOP side of the aisle, however, appears more unpredictable. Sen. John McCain, Arizona Republican, is not expected because he is home battling cancer. A victim of torture as a POW during the Vietnam War, Mr. McCain has urged his Senate colleagues to block her confirmation.
Late last week, Arizona's other Republican senator and frequent Trump White House critic, Jeff Flake, also declared himself still undecided.
As for Mr. Paul[11], he has expressed deep reservations about Ms. Haspel[12] since earlier this spring when Mr. Trump[13] nominated her to replace Mike Pompeo, who became secretary of state. Mr. Paul[14] also opposed Mr. Pompeo and played a central role in that nomination battle....
As a member of the Senate Foreign Relations Committee,
Mr. Paul
[15]
's opposition almost triggered the panel to report Mr. Pompeo out of the committee unfavorably before the full Senate vote.
Mr. Paul
[16]
changed his position with just minutes to spare. President
Trump
[17]
personally lobbied
Mr. Paul
[18]
to reconsider his vote.On the Haspel front,
Mr. Paul
[19]
reaffirmed his opposition late last week. "Someone who has been an active participant and enthusiast for torture is not someone who should represent America," he said in an interview.But