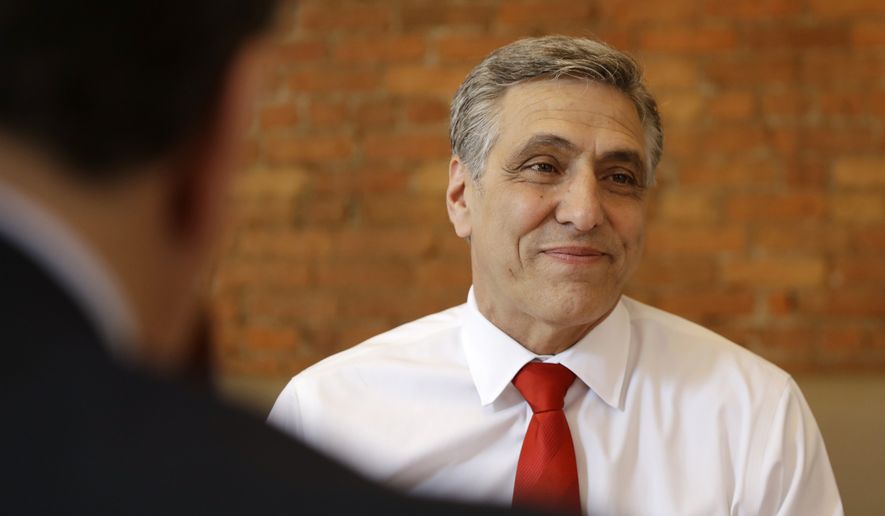 Rep. Lou Barletta won Pennsylvania's Republican Senate primary Tuesday, setting up a challenge against two-term Democratic Sen. Bob Casey in the fall in the swing state where redistricting also has emboldened Democrats in their drive to reclaim the House majority.
Mr. Barletta, a four-term lawmaker and supporter of President Trump[1]'s tough immigration policies, easily defeated state Rep. Jim Christiana of Beaver County by a margin of 61 percent to 39 percent, with nearly three-fourths of the votes counted. He piled up margins of nearly eight-to-one in his home base of northeastern Pennsylvania and made a respectable showing in Mr. Christiana's territory near Pittsburgh.
In his victory statement, Mr. Barletta took direct aim at the incumbent.
"The contrast between Senator Casey and me could not be clearer," Mr. Barletta said. "I've been a blue-collar worker, a blue collar mayor, and a blue-collar congressman who fights for the American worker, stands tough against illegal immigration, and keeps our families safe. Bob Casey has resisted, rejected, and obstructed the president's agenda at every turn."
Mr. Trump[2] recorded a robocall on the campaign's final weekend, telling voters that he needs "my guy" Mr. Barletta to oust the liberal "disaster" Mr. Casey.
Mr. Casey, the first Democrat to win re-election to the Senate from Pennsylvania since 1962, ran unopposed in the primary. He has a campaign war chest of more than $10 million.
In the GOP primary for governor, state Sen. Scott Wagner defeated businessman and Army veteran Paul Mango for the chance to face off in November against Democratic Gov. Tom Wolf, who ran unopposed.
Both parties plan to wage heavily funded campaigns in Pennsylvania in November, not only for the Senate seat but for many of the state's House districts. Under a court-ordered redistricting plan that favors Democrats, seven of the state's 18 congressional districts have no incumbent running.
Democrats are hoping to pick up four or more of those House seats, a large chunk of their goal of capturing 23 seats nationwide to reclaim the majority....
Republicans and the White House view the Senate contest between Mr. Barletta and Mr. Casey as one of their best opportunities to flip a seat.
Mr. Trump
[3]
captured the state in 2016 by less than one percentage point, becoming the first Republican to win Pennsylvania since 1988.In the state's House races, 84 candidates campaigned in the primaries for 18 seats. There were three times as many female candidates as there were two years ago.In the closely watched 7th District, where moderate Republican Rep. Charlie Dent has retired, former Allentown city solicitor Susan Wild held a narrow lead over pro-life Northampton County District Attorney John Morganelli and pastor Greg Edwards. In the GOP primary, former Lehigh County Commissioner Dean Browning was slightly ahead of ex-Olympian Marty Nothstein with about half of the votes counted.Among the Democrats' best pickup opportunities is the new 5th District, vacated by Republican Rep.