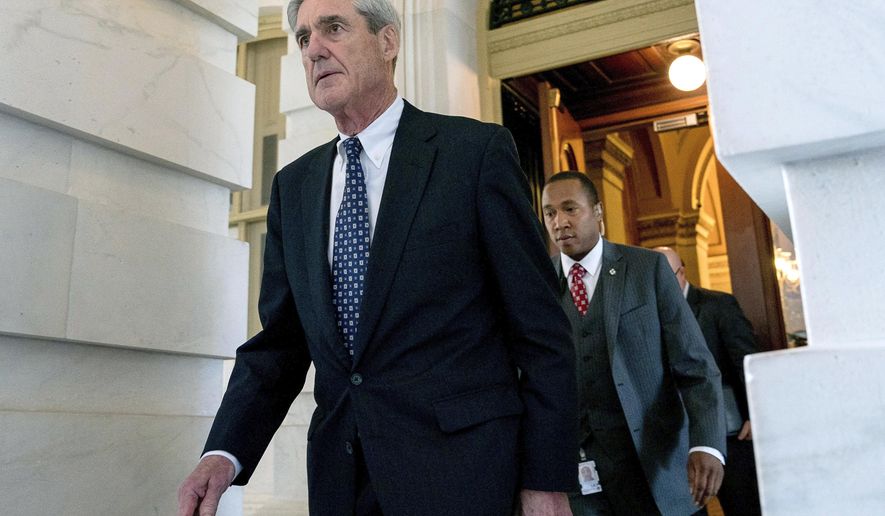 WASHINGTON (AP) - It was one year ago Thursday when Robert Mueller[1], the former FBI[2] director, was appointed as special counsel to take over the Justice Department[3]'s investigation into possible coordination between Russia[4] and Donald Trump[5]'s 2016 presidential campaign.
The 12 months since have yielded a flurry of criminal indictments and guilty pleas, tense court appearances, angry tweets from the president and speculation over what the ever-taciturn Mueller[6] already knows and what he'll investigate next.
Hundreds of pages of court filings, and public statements from witnesses, have to an extent pulled back the curtain on an extraordinarily secretive investigation. But much remains hidden from view.
A look at the last year and what may lie ahead:
WHAT IS MUELLER INVESTIGATING?
There's no doubt Mueller[7]'s investigation is far reaching, but at its core, prosecutors have remained focused on two central questions:
Did the Trump campaign collude with the Kremlin to tip the 2016 presidential election in the Republican candidate's favor?
And has President Donald Trump[8] tried to obstruct the investigation since taking office through actions including firing FBI[9] Director James Comey[10] and badgering Attorney General Jeff Sessions over his recusal from the Russia[11] probe?
___...
WHO HAS BEEN QUESTIONED SO FAR?A veritable who's who of current and former White House officials, as well as foreign businessmen and top campaign and transition staffers.
Trump
[12]
's son-in-law, Jared Kushner, was questioned last fall about former White House national security adviser Michael Flynn.
Trump
[13]
's White House counsel, Don McGahn, has been in to see
Mueller
[14]
's team, as have former chief of staff Reince Priebus, former communications director Hope Hicks, former chief strategist Steve Bannon, California real estate developer and longtime
Trump
[15]
friend Tom Barrack - and dozens of other witnesses.In a reflection of the wide-angle nature of the investigation, and its ongoing examination of foreign influence on the Trump administration, a grand jury in Washington has heard from a Lebanese-American businessman who joined a 2016 meeting at Trump Tower involving top
Trump
[16]
aides and the crown prince of Abu Dhabi.A Russian American lobbyist who attended a June 2016 meeting at which
Trump
[17]
's eldest son expected to receive damaging information about his father's opponent, Hillary Clinton, also has provided testimony.___WHO HAS BEEN CHARGED?A total of 19 people and three Russian companies have either been indicted or pleaded guilty to criminal charges.Among those charged are
Trump
[18]
campaign chairman Paul Manafort, who is awaiting trial in Virginia and the District of Columbia, and Flynn, who pleaded guilty in December to lying to the
FBI
[19]
and has been cooperating with
Mueller
[20]
's investigation. Other cooperators include deputy campaign chairman Rick