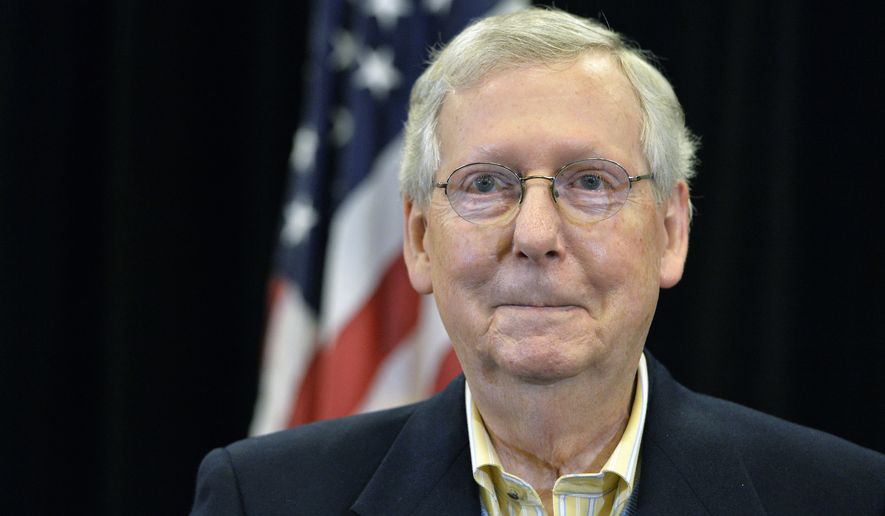 Mitch McConnell has been the Senate Republican leader for more than a decade, but never has his influence been more felt than this election year as he tries to defend his party's slim majority against Democrats riding an anti-Trump wave.
Whether he is shaping the agenda for incumbents or putting his finger on the scales to help pick nominees for open seats, Mr. McConnell — as well as President Trump — is the biggest factor in control of the Senate.
Defenders say Mr. McConnell has handled both roles masterfully. Republicans can run on a tax cut, a new Supreme Court justice and a host of erased Obama-era regulations. The majority leader also is working to make sure weak candidates don't win the party's nomination in key states.
But some insurgent Republicans whom Mr. McConnell is working to defeat say he will cost the party seats it otherwise would win in November. They also accuse him of undercutting Mr. Trump and the conservative movement by backing candidates who are less committed to the president's agenda.
"If Mitch were balancing the budget and passing real tax cuts for the middle class and had an alternative to Obamacare that gave people quality health insurance at a lower cost, then interfere all you want," said Rick Tyler, a senior adviser to Chris McDaniel, an insurgent Republican in Mississippi who is running for a Senate seat.
Otherwise, Mr. Tyler said, he should butt out.
Mr. McConnell, now in his sixth term from Kentucky, has earned the reputation as a masterful tactician who can count votes and strike deals. He served as minority leader from 2007 to 2014 and then ascended to majority leader when Republicans took control of the Senate in early 2015.
As majority leader, he has struggled to pass an Obamacare repeal or an immigration bill, has been unable to advance major gun rights or pro-life legislation, and has overseen a massive jump in debt and spending.
But he delivered a $1.5 trillion tax cut package and an end to Obamacare's individual mandate. In perhaps his biggest coup, he held off action on President Obama's nominee to the Supreme Court so the new president could fill the vacancy. That turned out to be Mr. Trump, who picked conservative star Justice Neil M. Gorsuch....
"His style may translate to insider or realpolitik, which drives his opponents crazy, but overall his results on Gorsuch and tax reform are historic," said Kevin Sheridan, a Republican Party strategist. "Will those accomplishments plus judges, deregulation and military funding be enough in 2018? Probably."Mr. McConnell's office declined requests to comment for this article, but the senator told reporters last week that the country has made "dramatic progress" under Republican governance."Everybody's excited about the condition of the economy and the way the country seems to be in an upbeat mood heading into the fall election," he said.A number of Republicans are still antsy, though. They sent an official request