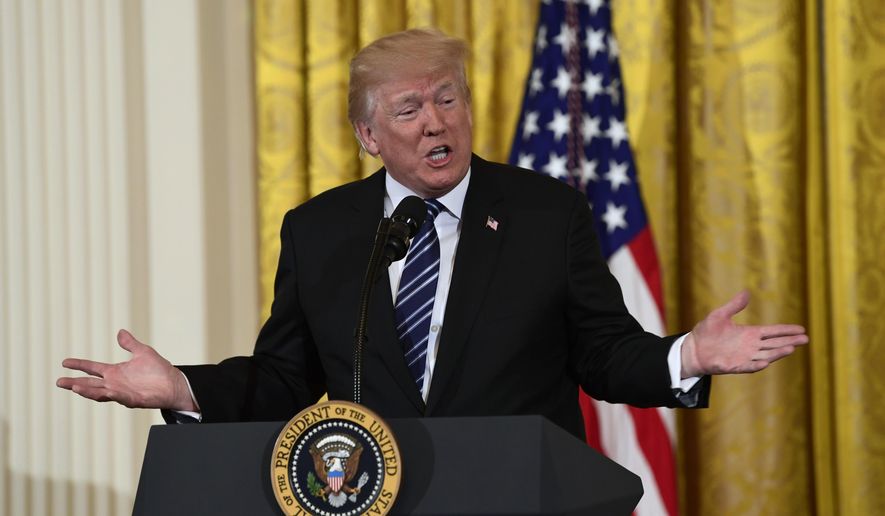 President Donald Trump late Saturday demanded Justice Department give members of Congress the documents related to an FBI[1] informant who had contacted campaign officials during the 2016 election.
"If the FBI[2] or DOJ was infiltrating a campaign for the benefit of another campaign, that is a really big deal," Mr. Trump Tweeted. "Only the release or review of documents that the House Intelligence Committee (also, Senate Judiciary) is asking for can give the conclusive answers. Drain the Swamp!"
The tweet references allegations that have been circulating among Republicans and conservative media outlets that an FBI[3] informant was planted into the campaign as part of the Russian collusion investigation.
It is also the latest Tweet from Trump calling upon Justice Department to give Congress documents related to the Russian probe.
Lawmakers had requested the documents related to the Russia investigation - which could include details about the FBI[4] informant, - several months ago, but the Justice Department continues to stall. Earlier this month, House Intelligence Committee Chairman Devin Nunes, Republican California, threatened to hold Attorney General Jeff Sessions in contempt if the documents are turned over.
On Friday, multiple media outlets reported an FBI[5] informant met with Trump campaign officials George Papadopoulos and Carter Page regarding their alleged Russia Times. The Washington Post reported the informant also met with Trump co-chairman Sam Clovis.
The New York Times said the informant was "an American academic who teaches in Britain," but said it would not name the person to "preserve their safety." In addition, CNN reported the informant has been an FBI[6] and CIA source "for years."
Justice Department and FBI[7] officials have maintained that turning over the documents to Mr. Nunes would put the informant's life in danger.
Mr. Trump said earlier this month that he could force the Justice Department to provide lawmakers with the documents...
"A Rigged System - They don't want to turn over Documents to Congress," Trump tweeted. "What are they afraid of? Why so much redacting? Why such unequal "justice?" At some point, I will have no choice but to use the powers granted to the Presidency and get involved!"Rudy Giuliani, who is serving as the president's attorney, told CNN Friday morning that he didn't know for sure if the
FBI
[8]
had embedded an informant in the Trump campaign."Here's the issue that I really feel strongly about with this informant, if there is one. First of all, I don't know for sure, nor does the President, if there really was. We're told that," the former New York City mayor told CNN's Chris Cuomo on "New Day," without providing details on the source for that information other than to hint some are "gone from the
FBI
[9]
."
The Washington Times Comment Policy
The Washington Times is switching its third-party