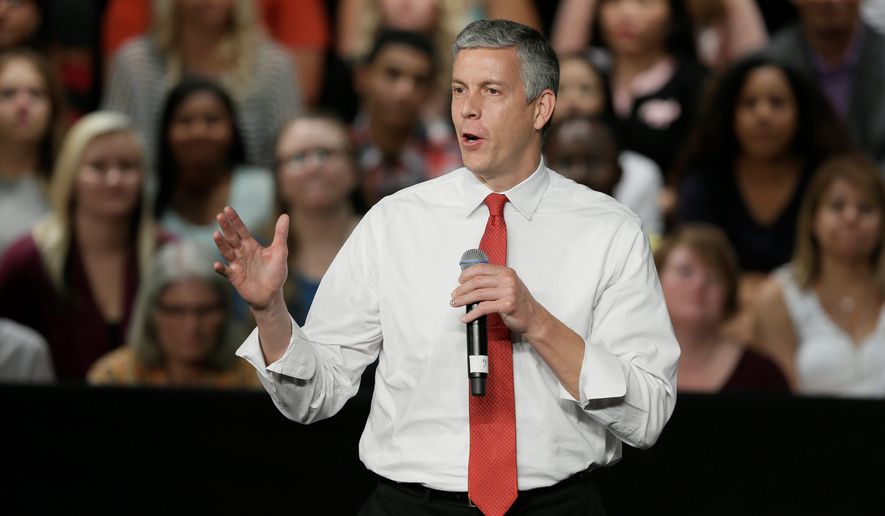 Texas Gov. Greg Abbott joined parishioners seeking solace at the first church services since the deadly school shooting at Santa Fe High School as the debate over how to stop such incidents intensified.
Two Obama administration figures, former Education Secretary Arne Duncan and assistant secretary Peter Cunningham, called for a nationwide school boycott to push for tougher gun-control legislation, while others cautioned against blaming firearms.
Among them was 18-year-old Santa Fe senior Monica Bracknell, a shooting survivor who hugged Mr. Abbott outside the Arcadia First Baptist Church and urged him not to use the tragedy as fodder in the gun-control fight.
"People are making this into a political issue," she told The Associated Press. "This is not a political issue. It's not a gun-law issue."
Oliver North, incoming president of the National Rifle Association, said the shootings are the product of a "culture of violence," not the Second Amendment.
"The problem that we've got is we're trying like the dickens to treat the symptom without treating the disease," Mr. North said on "Fox News Sunday." "The disease in this case isn't the Second Amendment. The disease is youngsters who are steeped in a culture of violence."
Texas Lt. Gov. Dan Patrick says one way to reduce school shootings is to retrofit school buildings to reduce the number of entrances, as well as arm teachers and train them how to respond to active-shooter situations.
"We need our teachers to be armed," Mr. Patrick said on CNN's "State of the Union." "When you're facing someone who's an active shooter, the best way to take that shooter down is with a gun, but even better than that is four or five guns to one."
Ten students were killed and 13 were injured Friday when the shooter opened fire at Santa Fe High School in Texas. Suspect Dimitrios Pagourtzis, 17, was charged with capital murder and aggravated assault....
Mr. Patrick praised "heroic" first responders, but also said having armed teachers may have saved lives."There was a teacher next door, a Marine, who saw what was going on, slammed the door, locked his door, protected his students," he said. "Some feel had he been able to carry a gun, he would have been able to stop that shooter, had it been his choice."Texas currently leaves whether teachers can carry up to local control."You have the necessary exits for fire, of course," Mr. Patrick said, "but we have to funnel our students into our schools so we can put eyes on them."Meanwhile, advocates of tougher gun-control laws redoubled their efforts in the wake of Friday's shooting, which comes only three months after the Feb. 14 shooting at Marjory Stoneman Douglas High School in Parkland, Florida, which killed 17 people.Mr. Cunningham, now the executive director of Education Post, proposed that parents keep their kids out of school on Sept. 4 until Congress passed "background checks for all gun purchases, a ban on assault weapons and high