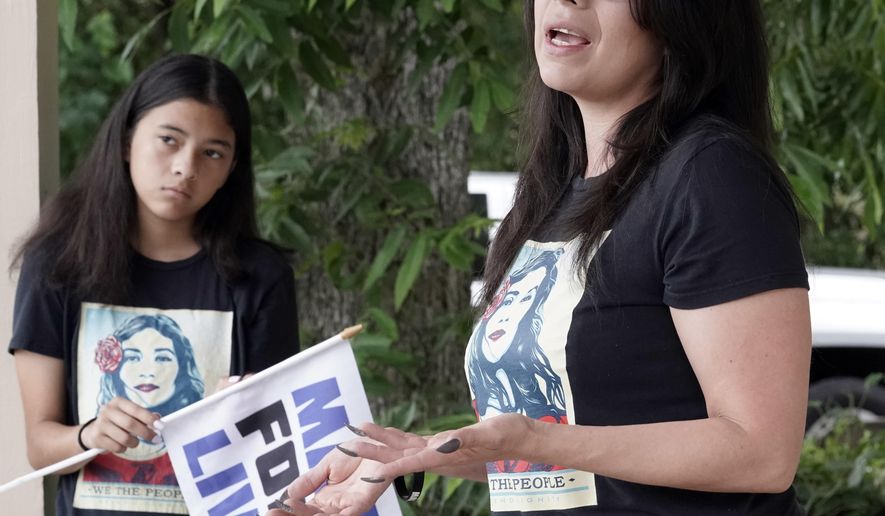 SANTA FE, Texas (AP) - She stood at her bedroom door for five minutes Saturday morning trying to work up the courage to turn the knob and re-enter a world she worried would never feel safe or whole again. Then she crept down the hallway, toward the front porch where she stood the morning before to watch police cars screaming down the highway toward the high school, and imagined she'd never forget the screech of their sirens.
Christina Delgado[1] had been dreading the next school shooting for months, since a gunman stormed a high school 1,000 miles (1,600 kilometers) away in Parkland[2], Florida, killing 17 people. Her 13-year-old daughter watched it unfold on television and said she was afraid to go to school. So Delgado[3] had taken an unpopular stand in her home state of Texas, with some of the most permissible gun laws in America: She attended town hall meetings, quizzed candidates running for office about their stance on guns and drove to Houston to join the March for Our Lives rally - as thousands across the country, galvanized by the outspoken students who survived the Parkland[4] shooting, took to the streets to call for gun laws that might stop the all-too-common occurrence of children being massacred in their classrooms.
Then Delgado[5] woke up Friday morning to find that the very thing she had marched against had arrived on her own doorstep. A teenage boy opened fire with his father's shotgun and handgun at Santa Fe High School a few miles down the road, in an attack that left 10 dead, eight of them children, in the first mass school shooting amid the Parkland[6] students' movement.
"I want people to know how real and how terrifying and how painful and how possible this is," Delgado[7] said. "It's not supposed to happen here. We're Texas, we're responsible gun owners. We care about our kids, we care about our communities, we care about our families. And we failed them. It's like a slap in the face."
Delgado[8], a hairdresser and mother of two, remembers the day like a dream: a call from her best friend who couldn't find her children, running down the highway in her pajamas, passing screaming parents and teenagers covered in blood. The chaotic day devastated this small, conservative city, where everyone knows their neighbors and just about everyone owns a gun. And it thrust Santa Fe and its population of 13,000 people into the center of the intractable battle over firearms, the nuance of which Delgado[9] worries will be lost again in the country's caustic, us-versus-them political climate.
On Sunday morning, even as residents sought refuge in their churches , the simmering debate was never far away.
At Arcadia First Baptist Church, Texas Gov. Greg Abbott, a staunch advocate for gun rights, hugged...