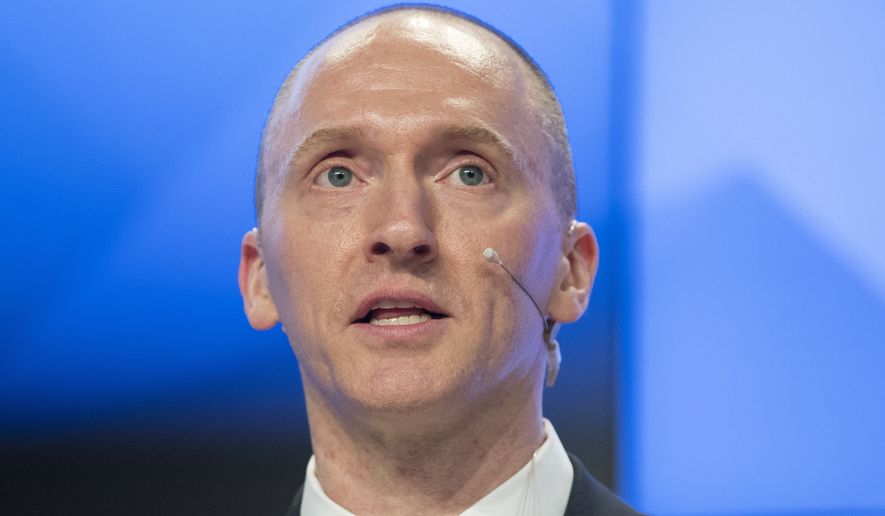 Britain's spy service's connections to shadowy investigations into Donald Trump have grown stronger with the revelation that academic Stefan Halper was spying on the president's campaign and doing it on British soil.
Mr. Halper, an American national security scholar whom the U.S. government has awarded contracts for classified projects, spied for the FBI, press reports say. He is a partner in Cambridge Security Initiative, a London consulting firm.
His partner is Sir Richard Dearlove, who directed Britain's foreign spying operation known as MI6, the country's CIA, from 1999 to 2004.
Mr. Halper chose British soil to introduce himself in early July 2016 to Trump campaign volunteer Carter Page, who became the target of an FBI wiretap the following October. Mr. Page told The Washington Times that the July meeting was his first of several encounters with Mr. Halper.
Mr. Page had just given a public commencement speech in Moscow and had stopped in London for a security conference that Mr. Halper also attended.
In London, Mr. Halper also engaged another Trump campaign volunteer, George Papadopoulos, according to the Daily Caller, which first reported on Mr. Halper and his outreach this spring.
Intelligence experts say that because Mr. Halper was carrying out a U.S. operation in Britain, Washington likely informed and received the blessing of MI6.
"It seems more and more like an FBI-MI6 ops," Mr. Page told The Times.
Said Larry Johnson, a former State Department intelligence analysis: "There are still many unanswered questions, but the evidence that now is part of the public record removes any doubt that British and U.S. Intelligence services collaborated in a devious and fabricated scheme to portray the Trump campaign as intent on collaborating with Russia."...
Even before the emergence of Mr. Halper as an FBI asset, the British spy service was connected to a campaign to destroy the Trump candidacy.This came in the form of Christopher Steele, who ran the Russia desk for MI6 before retiring and opening a private investigation firm.He was hired in June 2016 with money from the Democratic National Committee and the Hillary Clinton campaign. He told an Obama Justice Department contact he was "desperate" to destroy the Trump candidacy.He wrote a series of accusatory memos that came to be called the dossier — and he provided the information to the British government.The dossier accused President Trump and campaign aides of engaging in an "extensive conspiracy" to collude with the Russia's interference in the 2016 election through computer hacking and social media.None of the charges have been proven publicly, and Trump people say the dossier is full of falsehoods.In a London court, where he is being sued for libel, Mr. Steele said he had a "duty" to pass his dossier to the British government and to Sen. John McCain, Arizona Republican.Mr. Steele, his court filing said, was "under a duty to pass the information in the December memorandum to the senior UK government national security officials and Sen.