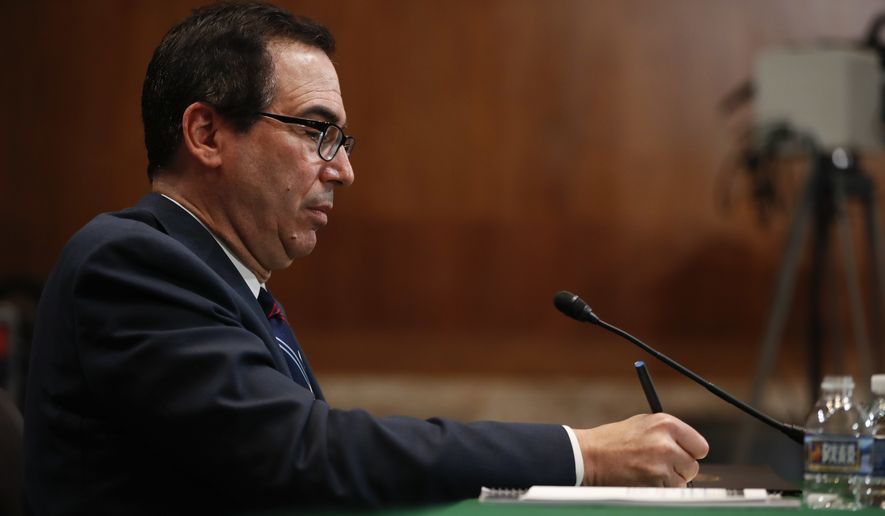 Treasury Secretary Steven T. Mnuchin said Tuesday that any easing of sanctions on Chinese cellphone maker ZTE Corp.[1] would heed national security concerns.
The ban on ZTE[2] has become snared in trade talks between the the Trump administration and Beijing[3], and alarms are being raised about ZTE[4]'s ability to breach U.S. national security by selling phones to Americans.
The Pentagon previously banned the phones on military bases because of the security concerns.
"Anything that they consider will take into account the very important national security issues, and those will be addressed," Mr. Mnuchin said at a Senate subcommittee hearing.
He did not confirm that a move was underway to lift the ban.
President Trump this month orders a review of the ZTE[5] ban in response to a personal request by Chinese President Xi Jinping. The ban would devastate ZTE[6], the second-largest manufacturer of cellphones in China[7], and potentially put all of its 70,000 employees out of work.
Mr. Mnuchin said the sanctions were not intended to bankrupt the Chinese firm, which depends on U.S. suppliers.
Reports that the deal was in the works prompted Senate Minority Leader Charles E. Schumer to accuse Mr. Trump and Mr. Mnuchin of being "played" by the Chinese.
"If these reports are true, the fines and board changes will do nothing to protect American national or economic security and are simply a diversion from the fact we have lost. President Xi has played President Trump and Secretary Mnuchin," said the New York Democrat....
The
ZTE
[8]
case came to the forefront amid high-stakes trade talks between the U.S. and
China
[9]
, which brought the world's two largest economies to the bring of a trade war.The Trump administrations is pushing
Beijing
[10]
to drop trade barriers and reduce American's $375 billion trade deficit with
China
[11]
. The U.S. has won some concessions, but there are more tough negotiations to come.Reports of a deal for
ZTE
[12]
closely followed a breakthrough in trade talks that, at least temporarily, put a trade war on hold.The framework, announced Saturday after two days of talks in Washington, included agreements by
China
[13]
to increase imports of U.S. goods and to address the theft or forced transfer of intellectual property from American firms doing business in
China
[14]
.The detail will have to be hammered out in further negotiations.
China
[15]
also announced Tuesday that it was lowering tariffs on imported cars, keeping a pledge
Beijing
[16]
made to appease Mr. Trump's demand for a fairer trade relationship.
China
[17]
's Trade Ministry said it was slashing tariffs on imported automobiles to 15 percent of wholesale value from 25 percent. The tariff on imported auto parts dropped to 6 percent from rates that